Draupadi Murmu receives Suriname's highest civilian award: She becomes the first Indian to receive the award
Draupadi Murmu receives Suriname's highest civilian award: She becomes the first Indian to receive the award; President Chandrikaprasad Santokhi honored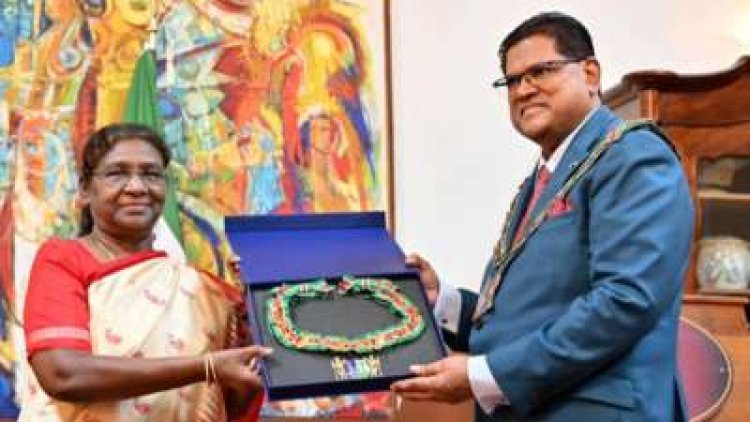 President of India Draupadi Murmu has been conferred with the highest civilian award of Suriname. Chandrika Prasad Santokhi, President of the Republic of Suriname, on Monday, presented him with 'The Grand Order of the Chain of Yellow Star' award. President Murmu has become the first Indian to receive this award.
After receiving the award, Murmu said that I am feeling very honored. It is very important not only for me but also for the 140 crore people of India. In addition, he participated in a cultural program to mark 150 years of the arrival of Indians in Suriname.
President Draupadi Murmu met Santokhi at the President's Palace on Monday. Delegation-level talks also took place between the two. After this, 4 Memorandum of Understanding (MOU) were also signed between the two countries. These MoUs have been done in the fields of health, agriculture, and capacity building.
President Murmu reached Suriname on Sunday. He was received with full state honors by President Chandrika Santokhi at Johann Adolf Pengel Airport in the capital Paramaribo.
Murmu said that like India, Suriname is also inhabited by people of many castes, religions, and languages. The friendship between India and Suriname is built on historical and cultural relations. However, the trade between the two countries is well below the potential. There is a need to increase cooperation to increase bilateral trade. Cooperation in Defence, Ayurveda, and the Pharma sector can be increased further.
Draupadi Murmu said that India is committed to enhancing technical cooperation and skill development of Suriname's human resources. India is ready to partner in the socio-economic development of Suriname by promoting quick-impact projects. He also expressed happiness over the approval of the 'Early Flood Warning System' developed by Suriname under the India-UNDP Fund.