Crores of rupees were collected by sending fake notices of ED: Crime Branch arrested 9
Crores of rupees were collected by sending fake notices of ED: Crime Branch arrested 9; Was inspired by Movie Special-26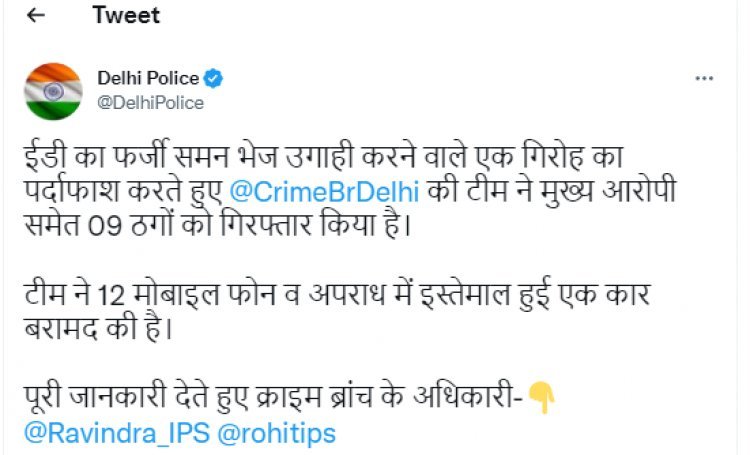 A gang doing extortion by sending fake notices of ED has been exposed. In this connection, the Crime Branch of Delhi has arrested nine people. Recently, this gang made a Mumbai businessman its victim and tried to extort Rs 15 to 20 crores from him. The members of this gang were inspired by watching the film Special 26. Police recovered twelve mobile phones and a Maruti Ciaz car from them.
The accused were identified as Akhilesh Mishra, Darshan Harish Joshi, Vinod Kumar Patel, Dharmendra Kumar Giri, Naresh Mahto, Asrar Ali, Vishnu Prasad, Devendra Kumar and Gajendra alias Guddu. Among the accused, Akhilesh Mishra has studied only up to class X. He had threatened the victim about ED by texting and calling. Accused Vishnu Prasad had worked as a PA with the former Lok Sabha MP.
Special CP Crime Ravindra Yadav told that Navi Mumbai citizen Hardev Singh had given a complaint regarding this matter, in which he told that he is the President of the company. Two ED notices were sent to him. A person named Akhilesh Mishra told his colleague that soon ED will file a case, which can lead to big trouble. He can get them out of this trouble through his experts.
Even after this, a notice sent to the victim as before was received through speed post. After this, the accused was contacted. First, they were asked for two to three crore rupees and asked to meet in Delhi. From November 9 to November 14, accused Akhilesh Mishra, his son and Darshan Harish Joshi kept contacting the victim and threatening her with ED action.
On 12 November, the victims Akhilesh Mishra and Darshan met Harish Joshi at the Mumbai airport. He was told that his property is worth crores of rupees and he wants to settle the case in just a few crores of rupees. The victim also got an air ticket from Mumbai to Delhi for their settlement and a meeting was fixed at Ashoka Hotel on 14th November. Here the accused demanded twenty crore rupees in the name of the settlement. The victim suspected his role after which the matter reached the police.