KRK claims: Kartik will replace Akshay in Housefull series
KRK claims: After Bhool Bhulaiyaa 2 and Hera Pheri 3, Kartik will replace Akshay in the Housefull series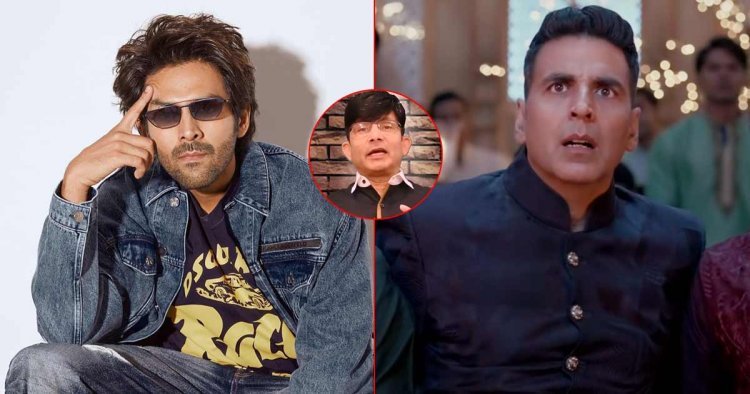 Recently it was reported that Kartik Aryan has replaced Akshay Kumar in Hera Pheri 3. Now film critic KRK has given his reaction to this matter. KRK says that after Bhool Bhulaiyaa and Hera Pheri, Kartik is now going to replace Akshay from the Housefull series as well. Now if this statement of KRK proves to be true, then it will be a big blow for Akshay's fans.
KRK said on his YouTube channel- "Akshay Kumar suffered a huge loss as soon as Bhool Bhulaiyaa 2 became a hit. For all the hits Akshay had, the makers have a new hero ready and that hero is Kartik." Aryan. Now all the makers are lining up to sign Kartik for the sequels of Akshay's hit films. It is well known that Hera Pheri and Housefull are huge franchises."
KRK further said in his video "Akshay Kumar asked for 126 crores for Hera Pheri 3 while the film's maker Firoz Nadiadwala offered him 65 crores. Akshay refused to do the film at this price. After that Firoz Bhai hired Kartik Signed for 41 crores, which means 85 crores were saved even before the film was made and the theatre business of Kartik's film will not be less than that of Akshay Kumar's film.
When the news of Kartik Aryan's Hera Pheri went viral, KRK immediately reacted to it. KRK wrote on his social media account- "Kartik replaced Akki in Bhool Bhalaiya 2. Kartik has now signed Hera Pheri 3, replacing Akshay. In a few days the news will be official that Kartik Akshay has been replaced from the next film of the Housefull series, it means that Kartik has replaced Akki for three films, but why, what is the reason behind it."
For Latest Update from Sangri Today Like us on Facebook and Follow on Twitter. Fore Latest Video News Subscribe our channel on YOUTUBE. Also Join Our Telegram Channel