Prohibition on hiring outsourced recovery agent of Mahindra Finance
Prohibition on hiring outsourced recovery agent of Mahindra Finance: RBI's action on Jharkhand incident, a pregnant woman was crushed by a tractor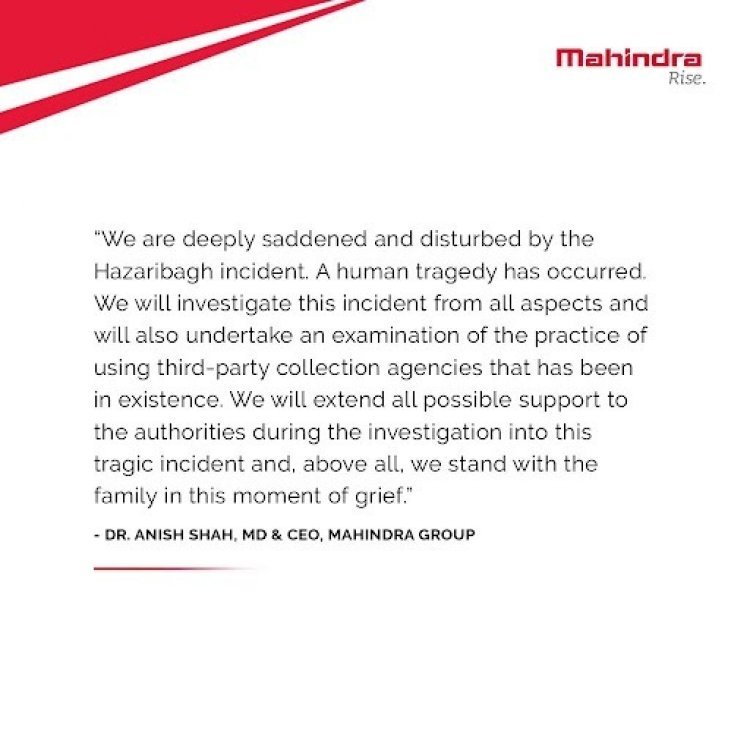 RBI has barred Mahindra & Mahindra Financial Services Ltd from hiring outsourcing recovery agents. A pregnant woman was allegedly crushed to death by a tractor in Hazaribagh, Jharkhand by an agent of the company to recover dues of a tractor loan. After this incident, the Reserve Bank issued strict instructions to the company.
According to the Hazaribagh police, the officials of the finance company did not inform the local police before going to the victim's house for recovery. Police have registered a case of murder against 4 people of Mahindra Finance Company. Angry over the incident, people also demonstrated outside the finance company's office.
Mithilesh Prasad Mehta, a differently-abled farmer resident of Sijua village, about 100 km from the Hazaribagh district headquarters of Jharkhand, got the tractor financed from Mahindra Finance in 2018. He was continuously paying the installments of tractors worth about five and a half lakhs. Only 6 installments of Rs 1 lakh 20 thousand were left. Due to a paucity of money, they were late in paying these installments. The finance company said that the loan has increased to 1 lakh 30 thousand.
Mithilesh Prasad Mehta alleges that the employees of the finance company were demanding an additional Rs 12,000 in addition to the arrears. On not paying this amount, they started taking the tractor forcibly. The family members stood in front of the tractor near Bariath village in the Ichak police station area and talked about paying the loan amount of Rs 1.20 lakh, but the employees remained adamant about giving 12 thousand more.
On refusing, the employees of the finance company got on the tractor and started shouting that get away from the front or else they will mount the tractor. When the family members did not leave, the recovery agent ordered the driver to increase the tractor. The driver crushed the pregnant daughter of the farmer with a tractor. Due to this, he died on the spot. Thereafter the accused fled with the tractor.
Monika's husband Kuldeep, a resident of Dumraun, had told her that they were married 1 year ago. Monica wanted to complete her PG. To fulfill his wish, he went to work in Assam. She was three months pregnant. He had left his maternal home four days ago. Had he known that the dead body of his wife would come to his house before returning to Assam, he would never have gone to Assam. Seeing the dead body of his wife, he is unable to handle himself.
Condoling the incident, Dr. Anish Shah, MD of Mahindra Finance Company, said that he is with the victim's family in this hour of grief. The matter will be investigated from all angles. Loan recovery through a third party will also be considered. The company will assist in the investigation in every way possible.
For Latest Update from Sangri Today Like us on Facebook and Follow on Twitter. Fore Latest Video News Subscribe our channel on YOUTUBE. Also Join Our Telegram Channel