Plywood factory burnt to ashes: 8 fire engines found fire under control
Plywood factory burnt to ashes: 8 fire engines found fire under control, SDM also reached the spot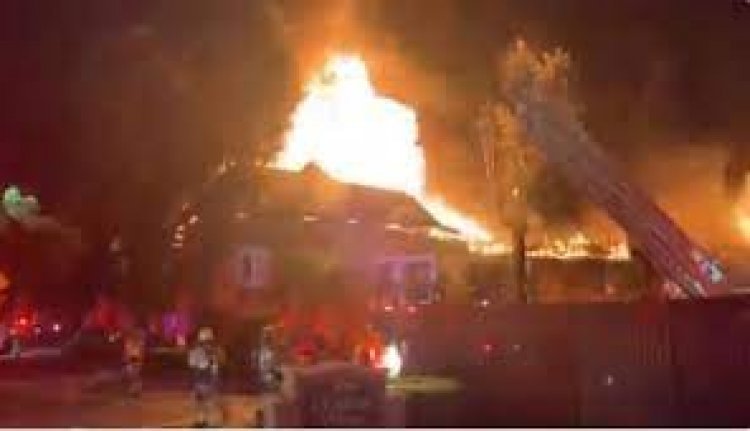 A sudden fire broke out in the Govind Plywood Factory located in the New Rico area on Thursday night in the Bassi police station area. Plywood and other items kept in the factory were burnt to ashes due to fire. To information, 8 fire tenders reached the spot and tried to control the fire by pouring water. But the fire had spread so much that controlling it was not an easy task.
It is being told that a sudden short circuit caught fire in Govind Plywood Factory. After which a crowd of people gathered on the spot seeing the flames. Due to the wind, the intensity of the fire was so strong that in no time the fire took a formidable form and the factory was burnt to ashes. The flames of the fire were visible far and wide.
Villagers and factory owners reached the spot after getting information about the fire, but seeing the fire took a formidable form. The entire material of plywood kept in the factory was burnt to ashes. The loss is estimated to be in crores of rupees. The work of extinguishing the fire continued till late at night.
On receiving the information about the fire, Jaipur Ghatgate Fire Station Assistant Fire Officer Ghanshyam Malhotra said that the fire could be controlled till 10 pm. Bassi MLA Laxman Meena, former head Ganesh Narayan Sharma, Indra Devi, Surendra Sharma Khokhawala and other public representatives and top officials also reached the spot and factory owner Girraj Sharma Samotya and his family are in bad condition.
For Latest Update from Sangri Today Like us on Facebook and Follow on Twitter. Fore Latest Video News Subscribe our channel on YOUTUBE. Also Join Our Telegram Channel