Most Wanted Human Smuggler Arrested: Kidnapped Thousands of African Migrants
Most Wanted Human Smuggler Arrested: Kidnapped Thousands of African Migrants, Tortured Women After Rape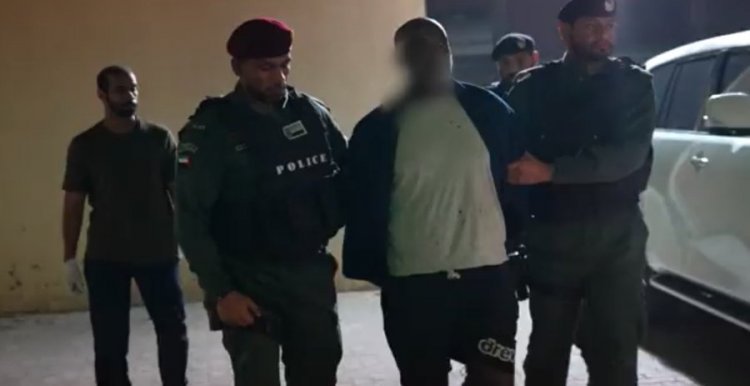 The world's most wanted human trafficker Kidane Zecharias Habtemariam of Eritrea has been caught in Sudan on 1 January. An international police operation was launched to nab him. Which was led by the United Arab Emirates ie UAE.
Kidane is one of the world's most dreaded human traffickers. Who is accused of kidnapping, raping and torturing thousands of migrants from several East African countries including Libya?
UAE's Anti-Narcotics Directorate's minister Brig Saeed Abdullah Al Suadi has expressed happiness after Kidane's arrest. He said that after the arrest of Kidane, a major route of human trafficking would end. Al Suadi said that the UAE had been looking for Kidane and his brother for a long time in money laundering cases. A plan was prepared for 9 months to catch him.
Then in late December, Interpol's Migrant Human Trafficking Unit gave some inputs related to his location. Along with these, UAE came to know of an illegal financial transaction. Who took UAE to Kidane's brother. After this, Kidane's brother took him to the world's most wanted human trafficker.
People fed up with war and poverty in African countries go to Europe in search of employment opportunities. But in Europe, they do not get entry due to many reasons. Due to this these people often get trapped in the clutches of human traffickers like Kidane. Kidane's network extended to Somalia, Eritrea, Ethiopia, Sudan and Libya. Who used to take them, hostage, in camps on the pretext of taking them to Europe. Here those people were given various kinds of tortures. Women were raped and tortured.
The Netherlands police described Kidane as the world's most ruthless and notorious smuggler. Along with this, the prosecutor there had also announced a reward of Rs 17 lakh on him. In Ethiopia, Kidane was recognized as a man who escaped from his torture while walking on the road in the year 2020. Whose information was given to the police? In February, the Ethiopian police arrested him. However, he escaped from jail only a year after being taken into custody in 2021. Many big officials of Ethiopia were accused of breaking him out of jail.
After being caught in the year 2020, many people testified against Kidane and many of his people in the Ethiopian court. According to Vice's report, a panel of 3 judges was formed for his trial. The victims told that they were promised that they would be taken to Italy by a shorter route. But, they would have been turned around in the Sahara desert.
When someone asks about reaching Europe, the people of Kidane say that this is the short way to reach Europe. However, only after crossing the border of Libya, he realized that he was going to be in big trouble.
One victim told that he was imprisoned in the camps along with several hundred others. In these camps, those people were beaten up. They neither get water to drink nor food. The family members were called and a huge amount was demanded in exchange for their freedom. During the hearing, many of the victims did not even look at the accused. He could not even tell his problems properly due to fear and dangerous memories.
Kidane escapees told that the traffickers would ask weak prisoners to play football. If any of them missed their shot, they would have been shot. He would ask the people of the winning team to rape any female prisoner of their choice.