Jinping invited Putin to visit China: met PM Mishustin on the second day of Russia tour
Jinping invited Putin to visit China: met PM Mishustin on the second day of Russia tour; Official meeting of both the President in the evening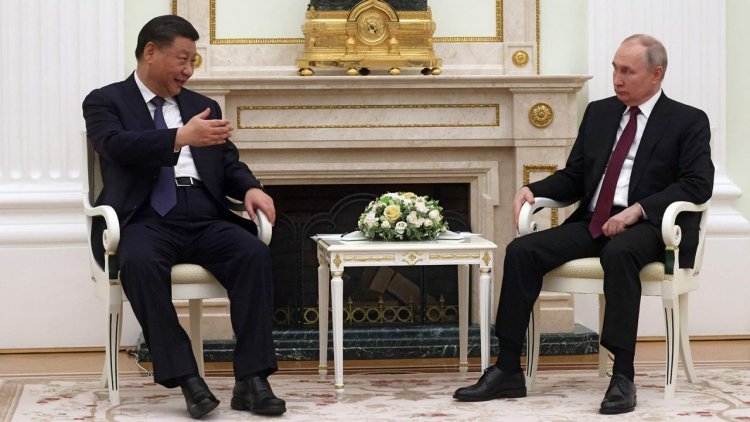 Today is the second day of Chinese President Xi Jinping's visit to Russia. During this, he met Russian Prime Minister Mikhail Mishustin. Jinping said- I have invited the Russian President to visit China this year. I hope that the Russian PM will also visit China soon. There will be an official conversation between Putin-Jinping late this evening.
Earlier on Monday night in Moscow, Jinping met Russian President Vladimir Putin. Putin receives Xi Jinping at the Presidential Palace (Kremlin). Said- Welcome, dear friend. I have carefully read your Peace Plan to end the war. We will also discuss this soon.
According to the New York Times report, in an informal meeting that lasted four and a half hours, Jinping described Russia as a reliable partner. Both the leaders also had dinner together. The closeness between Putin and Jinping is very deep. They were also seen after dinner. Putin personally went to drop Jinping in his car. A video of this came out. In this, Jinping is seen leaving the Kremlin to go to the hotel. Putin is also with them. Jinping arrived in Moscow on March 20 on a two-day tour for the first time since the start of the Russia-Ukraine war.
Jinping, who reached the Kremlin, had said before meeting Putin – The purpose of my visit is to end the war. A solution should be found which is acceptable to both parties. I will also hold talks with the President of Ukraine, Volodymyr Zelensky. Jinping wants to persuade Putin and Zelensky at least on ceasefire. After this, diplomatic channels will open and China will start being called the global leader.
According to Russian officials, the two leaders will discuss expanding the comprehensive and strategic partnership between Russia and China. There will also be talks on deepening Russian-Chinese cooperation in the international arena. Apart from this, Jinping and Putin will sign an important bilateral document. No information related to this document was given.
On 30 December 2022, Xi Jinping and Vladimir Putin had a video call for 8 minutes. During this, Putin asked to increase military cooperation between the two countries. On this, Xi Jinping said that China is ready to provide strategic cooperation to Russia amid the ongoing difficult situation in the world.
The two countries had signed a 'no limit' strategic partnership after starting the war in Ukraine. After the ban on European countries, China has increased its purchase of Russian oil and gas. In return, Russia is also supporting China on the issue of Taiwan. China has always claimed Taiwan as its share. At the same time, Putin has also considered Taiwan an integral part of China.
After becoming the President of China in 2012, Jinping went to Russia on his first foreign tour. He reached Moscow in March 2013. China has always supported Russia. SCO meeting was held in Samarkand in September 2022. Then Xi Jinping and Putin met.
At the same time, on 4 February 2022, Russian President Vladimir Putin reached Beijing for the inauguration ceremony of the Winter Olympics. Here he said that Russia supports the 'One China Policy'. Both countries had also talked about cooperation to protect each other's interests. This includes not accepting any other country's interference in their sovereignty, territorial integrity and domestic affairs.
Experts say that this is Jinping's first visit after the invasion of Ukraine. In this, China wants to achieve a lot according to its interests. China may pretend that it is talking about stopping the war, but the proof of its growing proximity to Russia is the increase in oil and gas imports. In 2022, the supply of crude oil and gas to China has increased by 44% and 100%.
At the same time, Russia's exports from China increased by 12.8%. China's semiconductor supply has doubled. High on the agenda for Xi's visit will be securing a new gas pipeline from Russia. Anyway, Nord Stream 2 going from Europe to Germany has been cancelled.