China's action in northern Ladakh, 200 shelters built in Depsang
China is again insolent on LAC: China's action in northern Ladakh, 200 shelters built in Depsang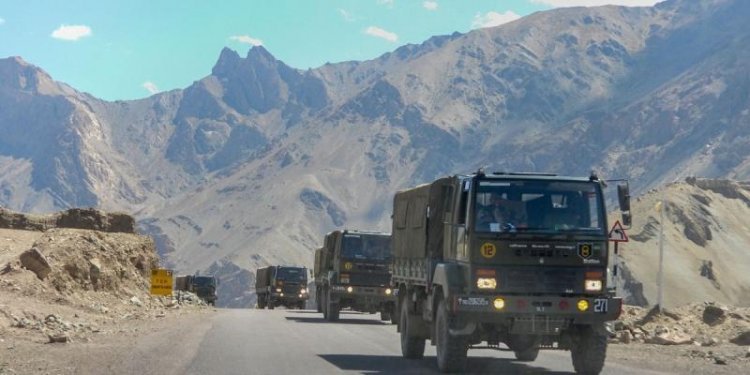 The Chinese army is again in action to make its incursions permanent on the Line of Actual Control (LAC). The People's Liberation Army (PLA) has recently built more than 200 new shelters in the strategic area between Aksai Chin and the Siachen Glacier. These shelters have been built for the purpose of providing support to the Chinese soldiers present there in winter.
According to the information, according to the Indian concept of LAC, PLA has built pre-fabricated shelters for the soldiers sitting about 15 to 18 km, like the Indian Army has been installing in Siachen Glacier. These shelters control the temperature and the soldiers can survive even in the bitter cold. There are military bases in the depth area to support this encroachment and provide military equipment. From there they are getting help. Most of these camps have been set up after Xi Jinping was elected president for a third term in October.
The Chinese Army encroached on 5 areas of Ladakh in 2020, from where it has returned, but the old incursions in Depsang and Damchowk remain intact. Due to the presence of Chinese soldiers in Depsang, the Indian Army is not able to go up to the traditional Patrol Points (PP) 10, 11, 12, 13, and 14. In senior commander-level talks, India has been registering objections on Depsang and Damchowk. It is clear from the construction of new shelters in Depsang that the Chinese PLA has no intention of withdrawing from there in the near future.
This area is very important for India from a strategic point of view. It connects China-occupied Aksai Chin with Pakistan-occupied Kashmir. Here, China is working on building a highway under the Belt and Road Initiative.
Retired Lieutenant General DS Hooda, former commander of the Northern Command, says – The immediate meaning of this move of the Chinese army in Depsang is that it is not ready to withdraw from this area. It wants to make this occupation permanent and is determined to undermine our claim by preventing the Indian Army from patrolling.
This area is quite flat in spite of being at a height. There is our airstrip in DBO nearby. Tanks can operate successfully on flat terrain. Depsang is the only area in Ladakh, after which the Karakoram range begins. On its other side are Nubra and Shyok Valley. The Shaksgam Valley gifted to China from Pakistan is also adjacent to it. Therefore, this area is of strategic importance for India.
For Latest Update from Sangri Today Like us on Facebook and Follow on Twitter. Fore Latest Video News Subscribe our channel on YOUTUBE. Also Join Our Telegram Channel