Women protest in Afghanistan's capital Kabul for right to education and work
Women's Demonstration in Afghanistan: were demanding the right to education and work; Taliban fighters were beaten up, fired in the air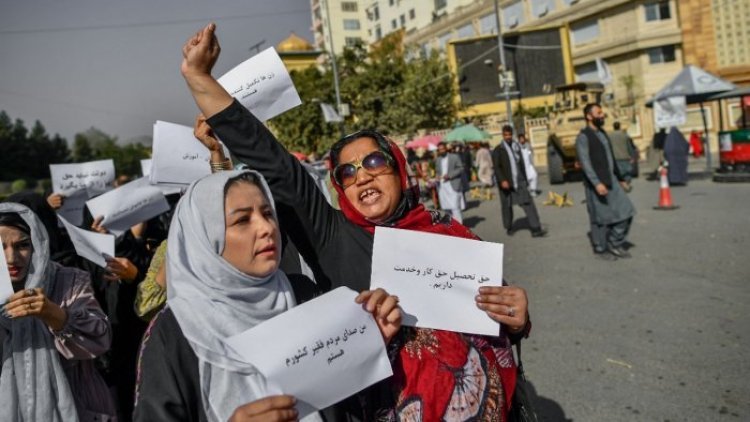 Women protest in Afghanistan's capital Kabul on Saturday. These women were demanding the right to education and work. They had placards with slogans in their hands and they were shouting slogans about work, food and freedom. They marched in front of the education ministry building in Kabul.
Taliban fighters fired in the air to stop the women's demonstration. When the women did not stop, they were also beaten up. The demonstration took place just days before the anniversary of the return of the Taliban to power. Let us tell you that the Taliban took power in Afghanistan on August 15 last year.
According to media reports, around 40 women were involved in the protest. After firing, he took shelter in nearby shops but was chased by Taliban fighters and beaten with the butt of a rifle. The phones of many women were also broken.​
The women protesters were carrying a banner with '15 August Ek Black Day' written on it. They demanded a share in work and politics. They were raising slogans of Justice-Justice. The women said that they were being denied their rights. Journalists covering the protest have also been assaulted.
After taking power, the Taliban had spoken of giving relief from harsh Islamic rule. Yet many restrictions were imposed on women. Thousands of girls were barred from going to school and women were not allowed to go to government jobs.
Women have also been banned from travelling alone for long journeys. Women can go to public gardens and parks only on a fixed day on which men do not go there. In May this year, Afghanistan's Supreme Leader and Taliban Chief Hibatullah Akhundzada ordered women to completely cover themselves in public places.
However, many women also staged small protests against it. But the Taliban overpowered them.
For Latest Update from Sangri Today Like us on Facebook and Follow on Twitter. Fore Latest Video News Subscribe our channel on YOUTUBE. Also Join Our Telegram Channel