PTI supporters protest before the start of the long march: raided the home minister's house
PTI supporters protest before the start of the long march: raided the home minister's house; March will start again from Wazirabad today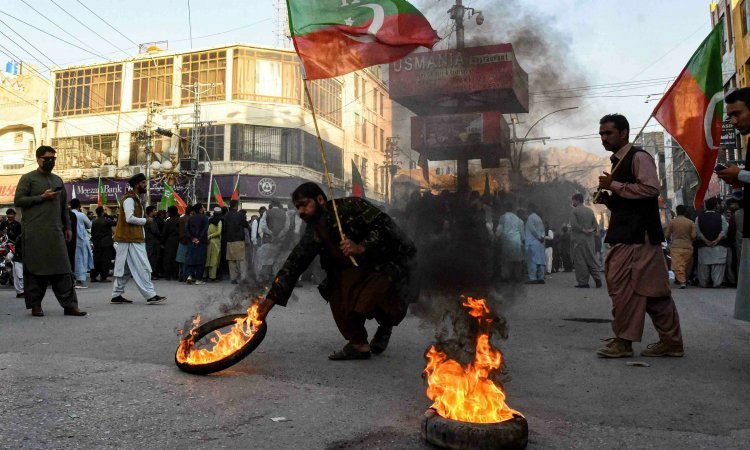 Former Pakistan Prime Minister Imran Khan's party Tehreek-e-Insaf (PTI) will now start the Long March on November 9. Earlier on Tuesday, PTI supporters protested and blocked many cities in protest against the attack on Imran. They blocked highways leading to Islamabad airport, and roads connecting Lahore and Peshawar to the capital. Police used tear gas and water cannons to stop the protesters.
Earlier, Imran supporters attacked the governor's residence in Lahore, the capital of Punjab province and broke the entry gate. In Faisalabad, activists attacked the house of Pakistan's Interior Minister Rana Sanaullah and raised anti-government slogans. People are getting upset due to such demonstrations happening across the country.
Islamabad-based businessman Mohammad Ali told Dainik Bhaskar that life in Islamabad has become difficult in the last few years. Every party throws the city into demonstrations to bake its political loaves. The government should give relief to the people by stopping such exploits of the parties.
Political analysts believe that the political situation in Pakistan may become more violent in the coming days. The political crisis and turmoil in the country will increase due to the attack on Imran Khan. This month is going to be important for Pakistan as the country's new army chief is also to be elected amid the political crisis.
Protests by PTI supporters continued on Tuesday at Rawalpindi, the headquarters of the Pakistan Army. Here the administration has closed schools and colleges for two days. Supporters demonstrated at 12 places in the city. Meanwhile, Imran said that the power of the country is in the hands of the conspirators. Such people did not even allow the Punjab Police to register an FIR for the attack in Waziristan. An independent inquiry should be conducted into this attack. He said that the Chief Justice of Pakistan should be vocal to get justice.
Home Minister Rana Sanaullah has said that the roads are jammed due to the ongoing Azadi March in Khyber-Pakhtoon and Punjab. He apologized for the inconvenience caused to the public. Also asked the Punjab government to open the roads. He said that the options of the police are open.
FIR has been registered in the case of an attack on Imran. In this, the name of the detained Naveed Mohammad Bashir has been registered as the main accused. However, it does not mention PM Shahbaz Sharif, Home Minister Sanaullah and Major General Faisal Naseer.
For Latest Update from Sangri Today Like us on Facebook and Follow on Twitter. Fore Latest Video News Subscribe our channel on YOUTUBE. Also Join Our Telegram Channel