Police took Sheezan to court barefoot
Police took Sheezan to court barefoot: Tunisha's uncle said - Tunisha started wearing hijab after coming in contact with Sheezan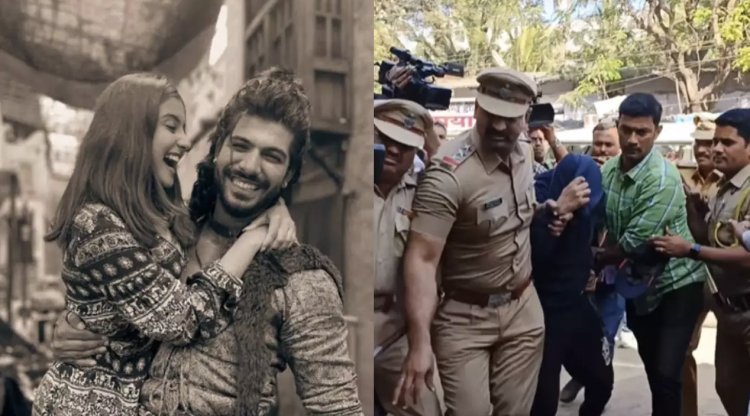 TV actress Tunisha Sharma committed suicide by hanging herself on the sets of the shooting on 24 December. Tunisha's co-star Sheezan Khan was arrested in this suicide case. Today i.e. Wednesday, December 28, the police presented her ex-boyfriend Sheezan Khan, who was arrested in the Tunisha Sharma suicide case, in the court. After appearing in court, he has been sent to police custody for two days. Meanwhile, Tanusha's maternal uncle Pawan Sharma has said that after meeting Sheezan, Tunisha's behaviour changed. She started wearing a hijab. Apart from this, he has said that Sheejan had relations with other girls as well. The police should investigate the case from all angles.
Talking to the media, Tanusha's maternal uncle said- Ever since Tunisha came in contact with Sheezan, her behaviour had changed. She started wearing a hijab. Valiv police say that he has relations with other women also, so I want police to investigate this matter from every angle so that the truth can come in front of everyone.
Waliv police have told in a new update that on the day of Tunisha's death, Sheezan had chatted with his secret girlfriend for half an hour. Police have retrieved 250 to 300 pages of WhatsApp chats and recordings from Sheezan's phone as well as scanned all the chats. Although the police have not yet unlocked Tunisha's phone.
Sheezan Khan was produced in the court today by the police, a video of which has surfaced. It can be seen in the video that the police are taking Sheezan to the court while dragging her bare feet. During this, his face is completely covered. The court has sent Sheezan to police custody for two days i.e. till 30 December.
Actually, Tunisha committed suicide by hanging herself on the shooting set on 24th December. Hours after Tunisha committed suicide, her co-star Sheezan Mohammad Khan was arrested by the police on the complaint of her mother. A case of abetment to suicide was registered against Sheezan and sent on police remand for four days. Sheezan and Tunisha were dating each other for about 4 months. Both of them had a breakup 15 days before the suicide incident the actress.
For Latest Update from Sangri Today Like us on Facebook and Follow on Twitter. Fore Latest Video News Subscribe our channel on YOUTUBE. Also Join Our Telegram Channel