Japan's PM Kishida reached Ukraine: stopped in Poland for some time and reached Kyiv by train
Japan's PM Kishida reached Ukraine: stopped in Poland for some time and reached Kyiv by train, will meet Zelensky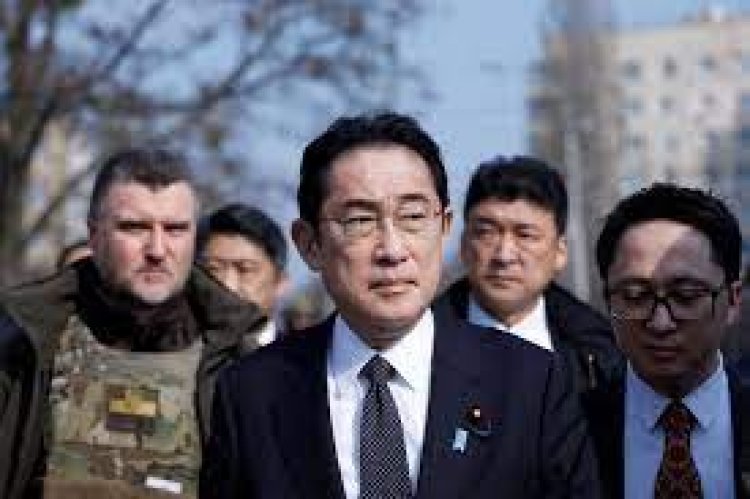 Japan's Prime Minister Fumio Kishida has reached Ukraine. Here he will meet Ukrainian President Volodymyr Zelensky. This will be the first time that a Japanese prime minister is visiting a country at war. Along with this, this will also be the first visit of the leader of any Asian country as the chairman of the G7 group.
According to the Japan Times, after leaving India, Kishida first reached Poland by state plane. From here he reached Ukraine by train. Will support Ukraine as president of Japan and G7 countries.
Kishida had earlier spoken with Zelensky on the phone in January. Then the Ukrainian President invited him to visit Kyiv. Japan has expressed its opposition to Russia's attack on Ukraine several times in the past. Apart from this, Japan also supported America and European countries in imposing sanctions on Russia regarding the war and providing humanitarian and economic assistance to Ukraine.
Japan has so far given $7 billion in aid to Ukraine. Apart from this, he has also given Ukraine much non-combat military equipment such as helmets, bullet-proof jackets, drones and people's needs to help in the war. Along with this, Japan has also given shelter to about 2 thousand people who came from Ukraine.
Earlier on March 20, Japanese PM Kishida had met Prime Minister Modi. During this also he expressed opposition to Russia's attack on Ukraine. During his visit to India, Kishida had a conversation with PM Modi sitting on a wooden bench at Buddha Jayanti Park.
After reaching India, Japanese Prime Minister Kishida said – I invited PM Modi to the G-7 Summit to be held in Hiroshima and he accepted it. At the same time, PM Modi had said – I always felt positive about the relationship between the two countries. I talked to him about the priorities of our G-20 Presidency. Our goal is to take everyone along.
Chinese President Xi Jinping arrived in Moscow on March 20 on a two-day visit for the first time since the start of the Russia-Ukraine war. Here he met Russian President Vladimir Putin. Putin receives Xi Jinping at the Presidential Palace (Kremlin). According to the New York Times report, in an informal meeting that lasted four and a half hours, Jinping described Russia as a reliable partner. Both the leaders also had dinner together.