Central employees raised the demand for OPS: Railway employees took out a rally and warned the central government
Central employees raised the demand for OPS: Railway employees took out a rally and warned the central government; Said- the results will have to be faced in the Lok Sabha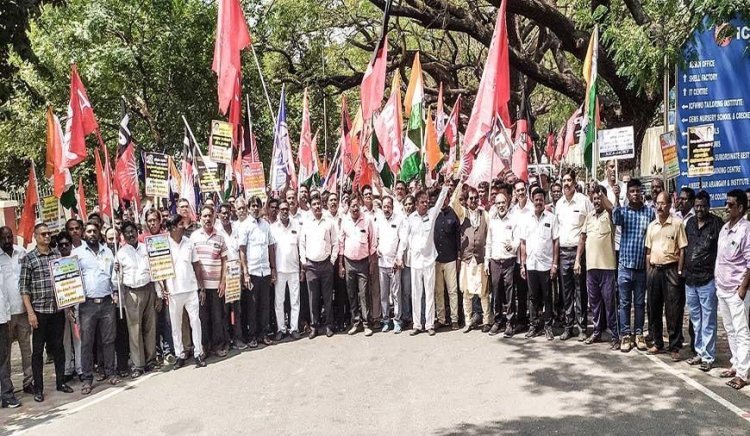 After the announcement made in Rajasthan to give the benefit of the Old Pension Scheme (OPS) to the state employees, now the central employees are also demanding it. Railway employees in Jaipur today demonstrated and took out a rally demanding the introduction of OPS. This rally, taken out from Jaipur Railway Junction, was taken out to the DRM office via Khasa Kothi Square, Collectorate, Kabir Marg.
In view of the upcoming Lok Sabha elections, the railway employees conducted this rally to give their rights to the trade union employees. Divisional President of North Western Railway Employees Union K.S. Ahlawat, Divisional Minister Mukesh Chaturvedi and GLO President Subhash Pareek while giving a statement after the rally said that the one who talks about the old pension scheme will now rule the country. On this occasion, raising slogans including NPS Go Back, the employees demanded the restoration of the old pension scheme.
The rally started this afternoon from Jaipur Railway Junction and reached the DRM office via Station Road, Khasa Kothi Square, Collectorate Circle, Kabir Marg, and Ram Mandir Road. On this occasion, Joint Front Convenor and Union General Secretary Mukesh Mathur, Subhash Pareek, Saurabh Dixit, Vineet Mann, Ram Singh, Rajendra Meena, BM Sunda, Bharat Lal Meena said that no government can play with the future of the youth. He said that when the state government can implement OPS for state employees, why can't the central government implement it? Speakers said that pension is the reward of about 35-40 years of service in an organization and is the stick of old age of the employee, in such a situation, how can the governments take away this right from the employees? The protesting employees warned the central government that if they do not give up their stubbornness, they will have to face the consequences in the upcoming Lok Sabha elections.