991 pilgrims leave for religious pilgrimage
991 pilgrims leave for religious pilgrimage: Rameshwaram will reach on October 2, arrangements from tea to dinner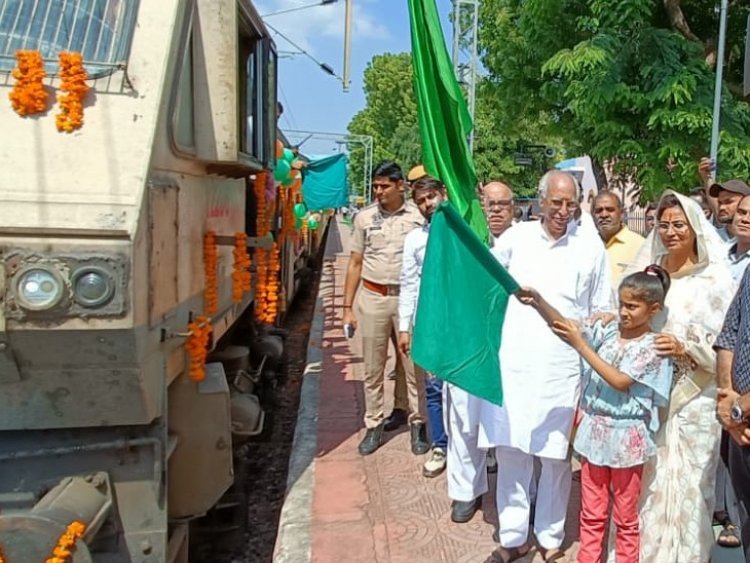 Under the Varishtha Teerthjan Yatra scheme, the first batch of 1000 pilgrims today left from Durgapura railway station in Jaipur. Their relatives and relatives who came with these pilgrims bid them farewell at the railway station by playing drums, shehnais and flowers. The train was flagged off by Devasthan Department Minister Shakuntala Rawat and a little girl. In this first batch that left today, all these passengers will reach Rameshwaram (Madurai) on October 2, where they will be brought back to Jaipur by this train after having darshan.
Minister Rawat said that this is the first time after Covid when a free pilgrimage is being made by the government to senior citizens. He said that it is every person's dream that after fulfilling all his responsibilities, he should do the pilgrimage, but due to the bad financial condition, it remains only a dream of many people. Today the Gehlot government has fulfilled this dream of such people. He said that there will be no greater virtuous work for us than this, which we are going to do today.
He said that in the first batch, 1181 passengers were selected through the lottery, which was to leave today, but only 991 passengers gave their consent to go on pilgrimage. He told that this train will now take pilgrims from Sawai Madhopur and Baran districts and will leave.
Minister Rawat said that we have made complete arrangements for the convenience of these passengers. For the convenience of the passengers, unarmed security personnel and housekeeping staff will be kept in each coach of the train. In case of a medical emergency, a team of doctors, and male and female nursing personnel have been deployed on the train. Each passenger was given a kit, in which sheets, blankets, towels, soap, toothpaste, mirror, comb, and oil are available. Apart from this, tea-breakfast, lunch, evening tea and dinner will also be provided here. On arrival at the pilgrimage site, the facility of breakfast and food will also be provided in the hotel rooms and on time on sharing basis for the stay of the passengers.
Due to Kovid, the pilgrimage scheme could not be operated for the last 2 years. When the government announced the budget this year, a large number of people applied. The government had announced this year to take 20 thousand passengers to the country and Nepal and for these 20 thousand seats, about 1.25 lakh people applied for the journey. The number of passengers was decided in proportion to the population of the districts and a lottery of these applications was drawn at the district level.