Tipu and Savarkar supporters clash in Shivamogga, Karnataka
Tipu and Savarkar supporters clash in Shivamogga, Karnataka: Controversy over posters, 4 accused arrested; Section 144 enforced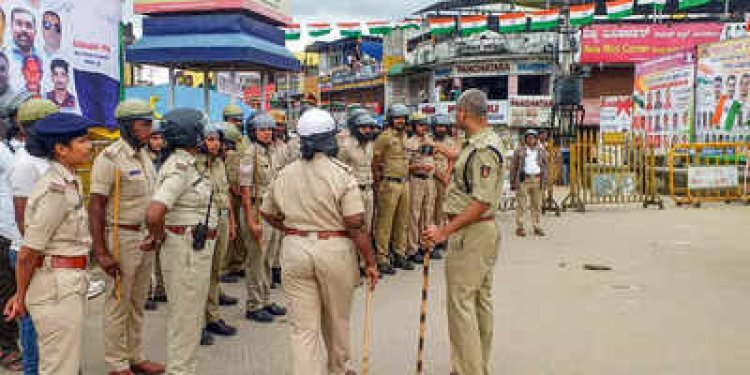 A clash broke out between two groups in Karnataka's Shivamogga town on Monday. People of Hindu organizations had put up a poster of Veer Savarkar in the Amir Ahmed circle here. After this Tipu Sultan's army protested and reached with his flag. They tried to put up posters of Tipu Sultan.
The police had to lathi-charge to stop the dispute. Later Savarkar's picture was also removed. In view of the tension in the area, Section 144 has been imposed on the entire city. At the same time, a large number of police forces have been deployed. The DM of Shivamogga has ordered the closure of schools and colleges in the city and Bhadravati town limits on Tuesday.
Karnataka ADG Alok Kumar said that 4 accused have been arrested. Among them, Nadeem, Abdul Rehman and Zabibullah have been identified. Nadeem has been accused in the 2016 Ganesh Chaturthi communal violence case.
According to the information, a person has also been stabbed in the Gandhi Bazar area here, but the police say that the stabbing happened in this case or on some other issue, it is being investigated. The injured person has been admitted to the hospital for treatment. His condition is stable.
The BJP and other Hindu organizations protested over the matter. They demanded that they be allowed to put up posters of Savarkar and that action should be taken against the other group for insulting Savarkar. In another similar case, the police have also removed a poster naming Suratkal intersection in Mangaluru after Savarkar.
BJP leader Mohammad Anwar was stabbed to death on June 23 in Karnataka's Shivamogga. The killers had come by bike. Mohammad Anwar was the General Secretary of the BJP. BJP MP Shobha Karandlaje had told the hand of fundamentalists behind this murder.