'Online exam rigged in Rajasthan too': Kirori claims – 4-5 MLAs and SOG officers also involved in paper leak
'Online exam rigged in Rajasthan too': Kirori claims – 4-5 MLAs and SOG officers also involved in paper leak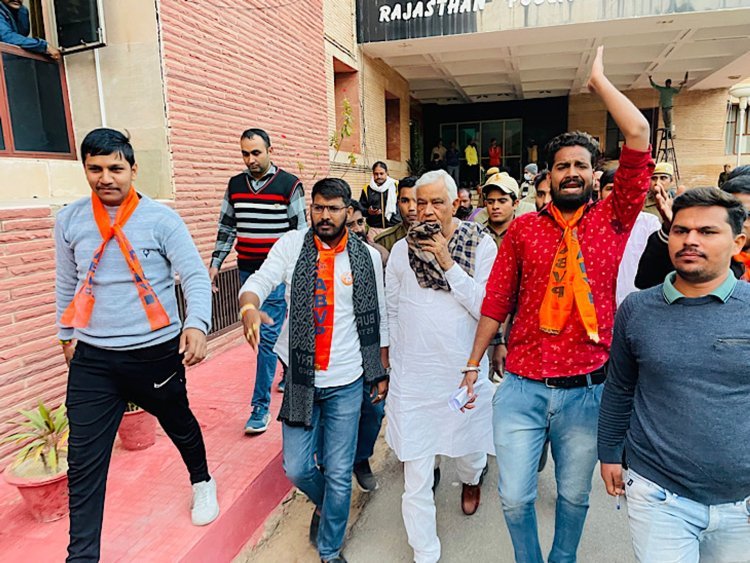 Rajya Sabha MP Kirori Lal Meena has laid siege to the government in the paper leak case in Rajasthan. He said that rigging has taken place on a large scale not only offline but also in online exams in the state. The MP claims that the investigating SOG officers and 4-5 MLAs are also involved in this. It should be investigated by CBI. If the demand for CBI inquiry is not met, I will travel to Jaipur with thousands of youths from Dausa on 19th January.
MP Meena told the media on Friday – Suresh Dhaka, the mastermind of the senior teacher recruitment paper leak, is not only offline but also the king of online exam rigging. Suresh had contacts in almost all computer centres.
Dhaka used to contact his partner Vishnoi (IT hacker) in the centers for hacking. Vishnoi did a hacking course from Gurgaon and China. Suresh Dhaka helped with this. Vishnoi is also in contact with hackers from abroad. Suresh also has a connection with Bhuvanesh Bhargava, the Rajasthan head of the TCS agency that conducted the exam. Because of this, TCS gave a job to hacker Vishnoi in Gurgaon.
Meena said- With the help of Vishnoi, in 2019, Sumit Bhagasara was made to win by hacking the Youth Congress elections. Defeated his opponent Mukesh Bhakar. This proves that Suresh Dhaka has a good relationship with CMO. Apart from this, he has good relations with ministers, MLAs etc. In all the online examinations conducted in Rajasthan, paper mafias have rigged them on a large scale.
TCS head Bhuvnesh Bhargava and Dhaka also have an important role in the online exam paper leak. Even after that, examinations are being conducted by the company. This should be investigated. Most of the owners of computer centers in Rajasthan are from Haryana. On whom cases are registered in different states related to the examination. Being blacklisted from Haryana, Punjab, UP, Uttarakhand, Jammu-Kashmir, and Chandigarh, they are coming to our Rajasthan and doing the work of looting unemployed youths.
MP Meena says that Suresh Dhaka is being saved by taking money. Why is the location of SOG's CI Mohan Poshwal mostly Mansarovar, is there another office of SOG there? This should also be investigated. Bhupendra Saran was also absconding here. Bhupendra's girlfriend Priyanka used to live in this area. Mohan Poshwal had contact with Priyanka. Mohan Poshwal will be caught if Bhupendra Saran's absconding and Priyanka's call details are extracted.
I will tell the name of Suresh Dhaka's girlfriend police. If the police still catch Dhaka's girlfriend, many secrets about the paper leak will be revealed. She is a big leader of a party, she can also run away to Nepal. SOG interrogated Udaram's girlfriend Parvati alias Draupati for 7 days in the reet paper leak. Mohan Poshwal saved Draupati by taking 35 lakh rupees through a soldier of SOG. I will tell the name of that SOG constable to the police.
Meena said- I am constantly demanding a CBI inquiry into the Reet paper leak case. The government does not want to conduct an impartial inquiry into the matter, because the government's ministers, MLAs and the Chief Minister himself are tainted. If there is an investigation, all of them will be exposed. Even after making many revelations one after the other, the government is not taking any action on this. We will have to lay siege to the CM House on 19th January. Youth from all over the state will participate in this gherao. Meena warned that unless the government takes action on the paper leak, the gherao will continue indefinitely.
For Latest Update from Sangri Today Like us on Facebook and Follow on Twitter. Fore Latest Video News Subscribe our channel on YOUTUBE. Also Join Our Telegram Channel