Manchester United's biggest defeat in club history
Manchester United's biggest defeat in club history: Rival club Liverpool FC beat 7-0, scored 6 goals in the second half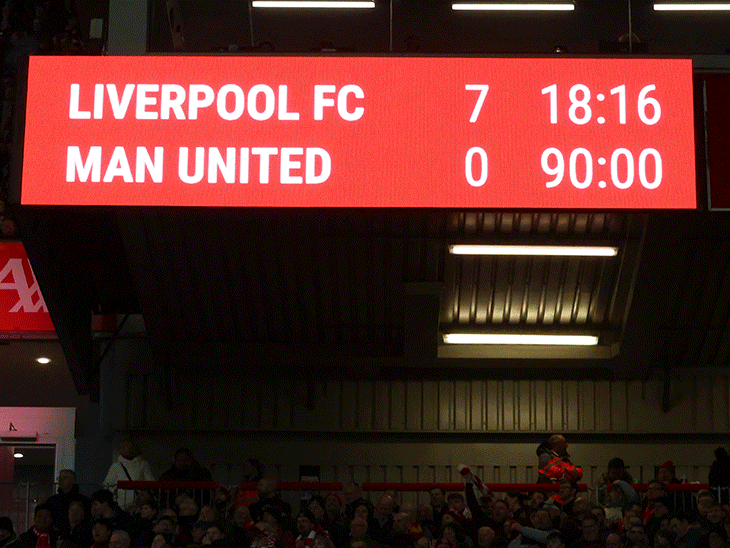 Manchester United, one of the biggest clubs in England, suffered the biggest defeat in their history on Sunday night. United's rival club Liverpool defeated them 7–0 in a league match in the English Premier League ie EPL. Cody Gakpo, Mohamed Salah, Darwin Núñez and Roberto Firminho scored for Liverpool.
Neither team scored till the 42nd minute. The score was 0–0. Kodi Gakpo scored in the 43rd minute. Immediately after half time, in the 47th minute, the team's striker Darwin Nunez scored the goal. Then in the 50th minute, Gakpo scored his second goal and the team went ahead 3-0. Nunez scored another goal in the 75th minute. At the same time, Mohammad Salah scored a goal in the 66th and 83rd minutes. Substitute Roberto Firminho scored the seventh goal in the 88th minute.
If we talk about the history of English football, Liverpool and Manchester United are two of the biggest clubs in England. The match between the two teams is called the Northwest Derby. Both have rivals in their city. Manchester United's rival is Manchester City. And Liverpool's Rival Everton. Nevertheless, both clubs consider each other as their biggest rivals.
During the Industrial Revolution in the early 19th century, both Manchester and Liverpool were economically prosperous before they became football clubs. Manchester had large textile industries. There used to be a port in Liverpool. The Manchester Canal was completed at the end of the century. Because of this people now started going to the port of Manchester. Because of this unemployment increased in Liverpool and the people of Liverpool began to dislike the people of Manchester.
When clubs were formed in both areas, the enmity between the two cities kept on increasing. At one point it decreased. However, the Manchester United and Liverpool clubs continued to compete as the best team in England, with both teams playing in several finals. Due to this, there was anger among the fans against each other's team.
Matches are played between 20 teams in EPL. Each team plays a total of 38 matches. After 38 matches, the top-of-the-table match is won. At present, London team Arsenal is on top with 63 points. Whereas Manchester United is at number three with 49 points after 25 matches. Tottenham on fourth and Liverpool on fifth with 42 points after 25 matches.