Gunman threatened to take 10 people hostage in the bank, and the police surrounded the area
Take out my money or I will set it on fire: In Lebanon, Gunman takes hostages at Beirut bank to try to free his trapped savings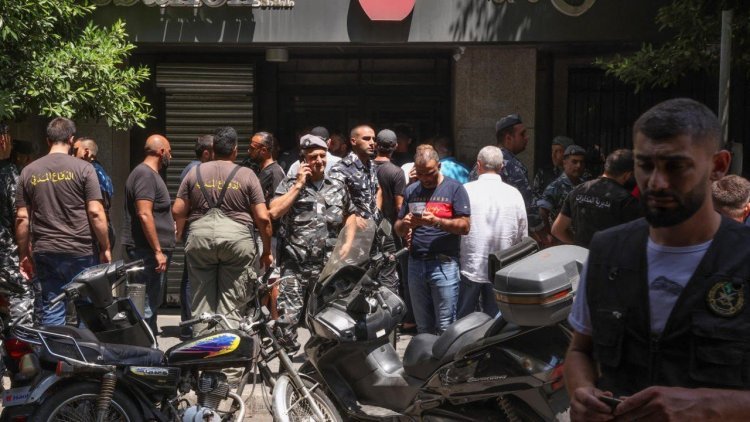 In the Lebanese capital Beirut, a man took 10 bank employees hostage to withdraw their money. 2 of them are civilians. The accused fired thrice in the air to get his demands fulfilled. The man was identified as 42-year-old Alsheikh Hussain. This incident is at a branch of Federal Bank.
Actually, 1 crore 60 lakh rupees of Alsheikh were deposited in the bank, but the bank was refusing to give the money. Angered by this, the person insisted on getting his demand fulfilled by taking people hostage in the bank.
Alsheikh lost his job. He needs money for his father's treatment and to run the house. He has Rs 1.60 crore deposited in the bank. Banks going through a crisis in Beirut have put limits on cash withdrawals. Alsheikh wanted to withdraw some money from the bank, but the bank refused to withdraw his money citing rules.
The angry man entered the bank with a gun and a can full of petrol. After firing in the air, he took many people hostage and started asking for their money.
The Lebanese army, local police and intelligence agents surrounded the area. The policemen were talking to the gunman so that a compromise could be made. The police appealed to release all the hostages, but the accused released only one hostage.
An eyewitness who ran away from the bank said that the gunman had demanded only Rs 1.5 lakh to pay the medical bills of the hospitalized father.
The brother of accused Alsheikh Hussain clarified that my brother is not a crook, he is a decent man. He is always helping others, but this time he is upset. That's why he has taken such a step.
Many such people gathered outside the bank, whose money is not coming out. The mob supported the gunman and raised slogans against the government. People say that due to the failure of the government, it is happening today that even our own money is not coming out of the bank. Because of these conditions, people are taking the law into their own hands.
Lebanon is facing the worst economic crisis in its history, with three-quarters of the population plunging into poverty. The Lebanese pound is down more than 90% against the US dollar. Banks in Lebanon, which have been going through a cash crunch since the end of 2019, have put limits on cash withdrawals. After this, customers are going to have problems withdrawing cash.