Fierce fire in Jaipur's powerhouse: more than 10 fire engines reached the spot
Fierce fire in Jaipur's powerhouse: more than 10 fire engines reached the spot, and electricity is supplied from here in the whole city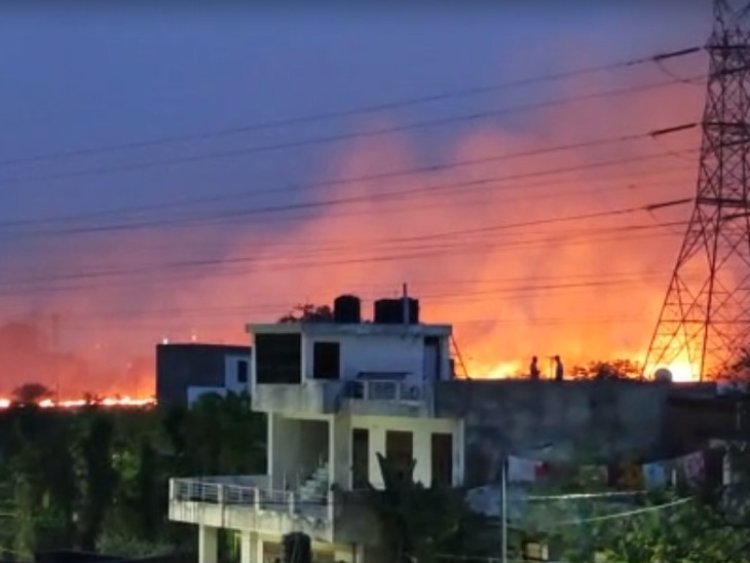 A massive fire broke out at Hirapura Power House on Ajmer Road in Jaipur on Wednesday evening. The fire that broke out in the grass of the powerhouse became fierce in no time. The fire engulfed the entire Grid Sub Station (GSS). On getting information about the incident, more than 10 fire tenders from VKI, Mansarovar, Malviya Nagar, Jhotwara and 22 godowns reached the spot. The fire could be controlled after about 3 hours.
CFO (Chief Fire Officer) Rajendra Nagar was standing with the entire team on the spot. People around were watching the flames from their rooftops. Rajendra Nagar told that people informed the fire control room at 6.57 pm about the fire. The fire started in the grass of the GSS premises and spread quickly. Four workers were on the spot when the fire broke out at 440 KV. SBI Switch Board Attendant and Guard are included in this.
CFO Rajendra Nagar told – The fire had spread almost the entire GSS. There were many cables here. Also, the power supply was on. In view of this, efforts were being made to control the fire very carefully. There is no information on any loss of life.
The entire Jaipur city is supplied with electricity from Hirapura Power House. This is 440 KV GSS. From here electricity is supplied to Chambal Power House, Nala Power House, Ram Mandir Power House, and Sanganer Power House. According to the officials of the Electricity Department, the exact cause of the fire has not been ascertained.
Ajay Sharma, who lives near GSS, told that he was roaming with the family on the roof of the house. Meanwhile, he saw the chain of fire in GSS. After this, the fire started increasing slowly. In no time, the fire took a gigantic form. Dozens of fire engines reached the spot. Firefighters brought the fire under control at around 9 p.m.
For Latest Update from Sangri Today Like us on Facebook and Follow on Twitter. Fore Latest Video News Subscribe our channel on YOUTUBE. Also Join Our Telegram Channel