Election of Miss Fresher-2022 in Community and Applied Science College
Announcing Anisha Dudi Miss Fresher, Mr. Mayank Sharma Mr. Fresher, Madhuri Gautam and Mayank Meena runner up and Anuradha Kaswan Miss Fresher in the postgraduate class for the year 2022-23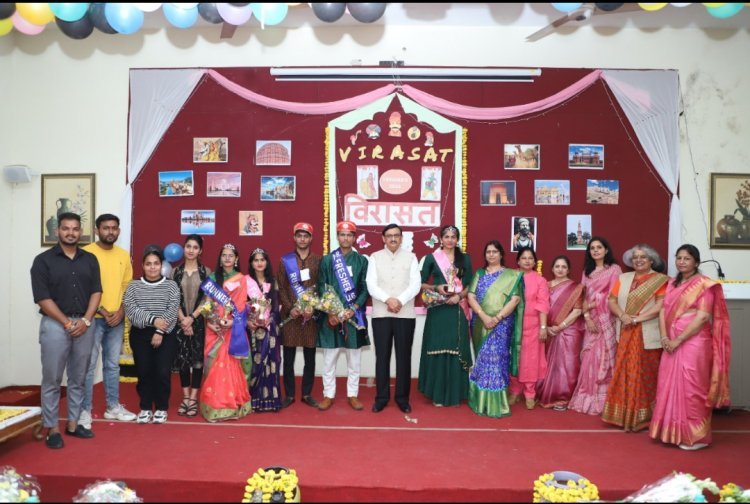 Election of Miss Fresher-2022 in Community and Applied Science College
The election of Miss Fresher and Mr. Fresher for the year 2022-23 in the College of Community and Applied Sciences, a constituent unit of Maharana Pratap University of Agriculture and Technology, Udaipur, was concluded with colorful presentations. The chief guest of the program was Dr. Ajit Kumar Karnataka, Vice Chancellor of the University. Announcing Anisha Dudi Miss Fresher, Mr. Mayank Sharma Mr. Fresher, Madhuri Gautam and Mayank Meena runner up and Anuradha Kaswan Miss Fresher in the postgraduate class for the year 2022-23, wishing them good luck and wishing them a bright future.
College Dean, Dr. Meenu Srivastava gave a welcome address and told that the selection of Miss and Mr. Fresher was done on the basis of participation in various competitions based on the knowledge, creative attitude and sports of the students. Co-Dean, Student Welfare Dr. Gayatri Tiwari Introduced Dr. Laxmi Jhala, Mamta Sukhwal and Mrs. Rekha Singhvi, judges of graduate and post graduate class of Miss Fresher and while giving detailed information about the program, said that the theme of the program was heritage and the participants gave presentations according to the theme.
According to club advisor Dr. Sumitra Meena, various competitions were organized in collaboration with the students of Leela Phadnis House and the program was coordinated by House Captain Ansh Vyas, Lakshika Aggarwal and Rupali Rathal.
For Latest Update from Sangri Today Like us on Facebook and Follow on Twitter. Fore Latest Video News Subscribe our channel on YOUTUBE. Also Join Our Telegram Channel