Attack on Ahmadiyya cemetery in Pakistan
Attack on Ahmadiyya cemetery in PAK: Suspects vandalize graves, write anti-community slogans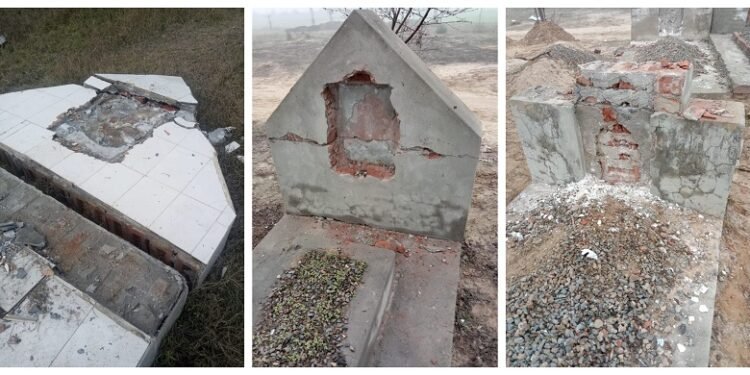 In Pakistan's Punjab province, fundamentalists attacked the cemetery of the Ahmadiyya community. Here the suspects vandalized the graves and wrote anti-Ahmadi slogans on them. Due to this people are in great fear and are feeling insecure. Ahmadis have also appealed to the government for justice.
Ahmadiyya community leader Aamir Mahmood said- On November 22, suspects broke into the cemetery at Premkot in Hafisabad district, about 111 km from Lahore, and broke the graves there. Unknown people desecrated 4 graves in our community. Something was also written on the stones of many graves.
Aamir Mahmood said- This incident happened in the same cemetery where 45 graves were broken in February. This attack shows the increasing fundamentalism in Pakistan. Many people have been hurt by such incidents. He has also appealed to the government for justice. Minorities are feeling insecure. They fear that they too may be attacked.
In Pakistan, out of the 220 million population, about 10 million people are non-Muslims. In 1974, the Parliament of Pakistan declared the Ahmadiyya community non-Muslim. After 10 years, he was also banned for calling himself a Muslim. Ahmadis cannot even travel to Saudi Arabia. They cannot give any kind of sermon.
Ahmadis consider themselves followers of Islam, but Muslims in Pakistan consider them to be separate from themselves. The way Hindus, Christians and people of other religions are facing discrimination in Pakistan, similar is to the situation of this community.
For Latest Update from Sangri Today Like us on Facebook and Follow on Twitter. Fore Latest Video News Subscribe our channel on YOUTUBE. Also Join Our Telegram Channel