America's advice to Pakistan: Seek relief from China in repaying debt, maintain relations with India responsibly
America's advice to Pakistan: Seek relief from China in repaying debt, maintain relations with India responsibly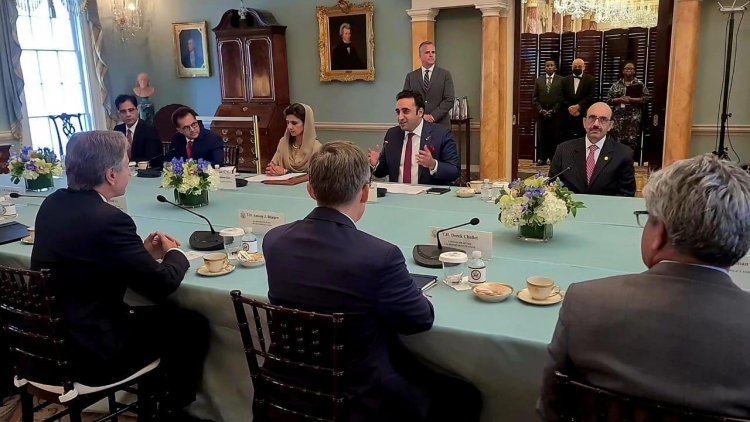 For the first time, the US has taken a jibe at the relations between Pakistan and China. Along with this, advice has also been given. Pakistan's Foreign Minister Bilawal Bhutto Zardari met US Secretary of State Antony Blinken on Monday. During this, Bilawal sought help, referring to the devastation caused by the floods in his country. On this, Blinken bluntly advised him that Pakistan should also seek relief from China in the matter of repayment of the debt, America has always helped Pakistan.
Blinken mentioned India in front of Bilawal. Said- Pakistan should show responsibility in maintaining relations with India.
Bilawal is on a 10-day US tour. On Monday, delegation-level talks were held between Pakistan and America. Both Bilawal and Blinken participated in it.
After the meeting, both foreign ministers held a press conference. During this, Blinken said – America has always helped Pakistan and is ready for it even further. We know that floods have caused great devastation in Pakistan.
Bilawal had given an interview to France 24 just two days ago. Apart from this, a press conference was also held. On both these occasions, the Foreign Minister of Pakistan had described the friendship of China and Pakistan as higher than the Himalayas and sweeter than the city.
Blinken made it clear in the press conference with Bilawal that the US has strong objections to the relationship between China and Pakistan, especially the debt matters. Blinken said- I want to ask Pakistan to seek relief from China in the matter of debt repayment in this difficult time. The loan repayment terms should also be restructured. With this, your country will be able to recover from the devastation caused by the floods soon.
China is building an economic corridor at a cost of $54 billion. It is called the China-Pakistan Economic Corridor (CPEC). For this, China has given a loan of billions of dollars to Pakistan on secret terms. The US, the IMF and the World Bank have been demanding that the CPEC and loan terms be brought into the public domain. Pakistan has not yet made the CPEC documents public.
The special thing is that most of the CPEC and roads have been washed away in the recent floods. Now America has surrounded Pakistan for the first time regarding relations with China. Obviously, the US is now exerting direct and excessive pressure on Pakistan so that all the documents of CPEC are made public. So far 1600 people have died in Pakistan due to floods.
For Latest Update from Sangri Today Like us on Facebook and Follow on Twitter. Fore Latest Video News Subscribe our channel on YOUTUBE. Also Join Our Telegram Channel