Aamir Khan hosted a party for Kapil Sharma and Ginni at home, pictures of the get-together surfaced
Kapil Sharma with Aamir Khan: Late night, Aamir Khan shared the memorable get-together at his home for Kapil Sharma and his wife Ginni whose pictures were shared with the comedian on social media and also thanked him.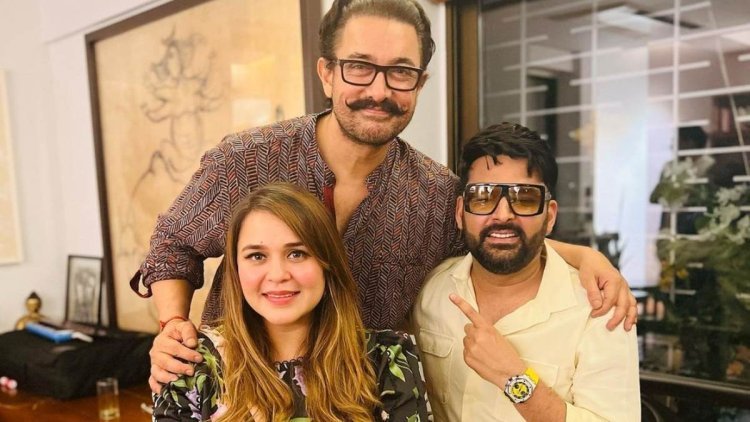 Mr. Perfectionist of the Hindi film industry Aamir Khan attended the trailer launch of the Punjabi film 'Carry On Jatta 3' on Tuesday. Comedian Kapil Sharma was also seen with him on this occasion.
Many pictures and videos have surfaced on social media. At the same time, Kapil Sharma shared some more photos with the actor, in which he thanked the actor.
At the trailer launch on Tuesday, where Aamir Khan jokingly complained about Kapil Sharma not inviting him to his show. So after this event, Kapil and Aamir also spent time together. Shared it on Instagram with a comedian.
Kapil has shared photos with his wife Ginni and Aamir Khan on social media. Everyone looks very happy in these pictures. During this, Kapil also thanked Aamir Khan and wrote- 'Thank you for a wonderful evening, love, laughter, music, beautiful hospitality. What a beautiful and memorable get-together. Thank you Aamir Khan bhai, you are our pride.
Let me tell you, in the trailer launch, Aamir Khan praised Kapil's talent and his show. During this, he also said that I am doing less work these days. I am with family more. I love watching comedy. For the past several months I have been watching The Kapil Sharma Show. I have become such a big fan of his. He has colored so many of my evenings.
I laugh so much I called Kapil and said thank you, you entertain so many people. I am one of your biggest fans. Further the actor said, you never invited me on the show? ' Before he asks, let me say it. I am one step ahead of Kapil.