18 burnt alive in bus fire in Pakistan: All flood victims
18 burnt alive in bus fire in Pakistan: All flood victims; The accident happened due to a fault in the air-conditioning system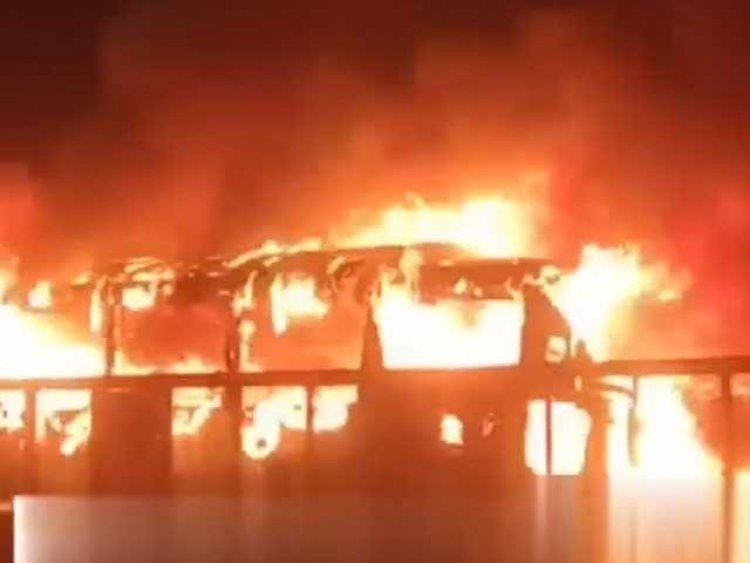 A passenger bus caught fire in Pakistan's Jamshoro district on Wednesday. In the accident, 18 people including 8 children were burnt alive, while many people were injured. All have been taken to Jamshoro Hospital.
According to Javed Baloch, former Senior Superintendent of Police, Jamshoro, the bus was returning from Karachi to Khairpur Nathan Shah. A fire broke out near Nooriabad and 18 people died. The passengers sitting on the bus were flood-affected people and were on their way back home. All were from the Mugari community. The rescue was started immediately after the accident. The bodies and the injured have been taken to Liaquat University Hospital in Jamshoro.
According to media reports, the fire was caused by a defect in the air-conditioning system of the coach, which engulfed the entire bus. Some passengers jumped from the bus to escape the fire. It is being told that there were about 35 people on the bus.
Taking cognizance of the incident, Sindh Chief Minister Murad Ali Shah has directed the Deputy Commissioner of Jamshoro to immediately reach the spot with an ambulance. He said in a statement that the administration would extend all help to the families. CM Murad has also summoned the investigation report of the incident.
Earlier on October 9, a fire broke out in a shopping mall in Islamabad. The fire started in the Centaurus building. According to media reports, a short circuit occurred in a restaurant in the food court of the mall. After that, the fire spread. No one was injured in the accident and the fire was brought under control in two hours. An investigation is going on in this matter.
For Latest Update from Sangri Today Like us on Facebook and Follow on Twitter. Fore Latest Video News Subscribe our channel on YOUTUBE. Also Join Our Telegram Channel