Zara Hatke Zara Bachke Movie Review: Vicky Kaushal & Sara Ali Khan's Joyful Journey Fails to Reach Its Full Potential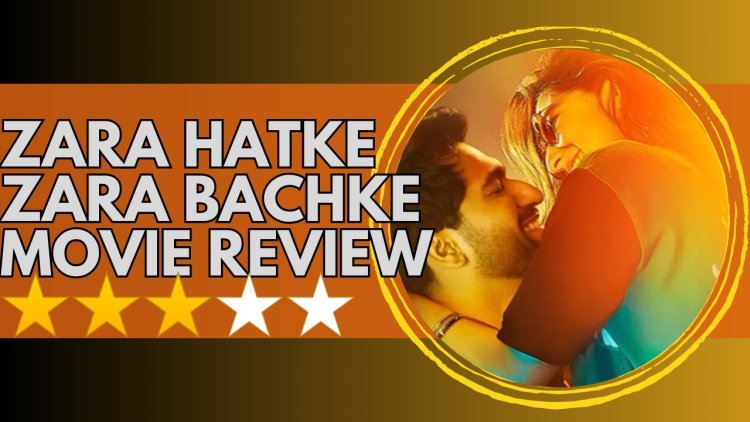 Zara Hatke Zara Bachke Movie Review
Zara Hatke Zara Bachke is a delightful family entertainer that will have you laughing in almost every scene. The film takes ordinary aspects of life and presents them in an extraordinary way. However, it does suffer from a dragging pace towards the end, which may become a bit boring.
Set in the charming town of Indore, the story revolves around Kapil (played by Vicky Kaushal) and Saumya (played by Sara Ali Khan), two college sweethearts deeply in love. After getting married, they find themselves living with Kapil's family, constantly facing interruptions and a lack of privacy. Their romance is hindered by Kapil's mama's son who sleeps between them, and Saumya has to deal with the constant nagging of the mami, who seems to be the villain of the family. The small house leaves them with no personal space. In an attempt to escape their family and secure a flat through the government's PMAY scheme, they decide to get a divorce. This decision sets off a series of comedic mishaps and misunderstandings.
While the premise may seem like a familiar trope, Zara Hatke Zara Bachke is a sincere and well-executed film. It beautifully explores family values and relationships as Kapil and Saumya realize the importance of what they have while attempting to break free. The climax brings a heartwarming twist that changes the entire trajectory of the story. The film gracefully showcases the complexities of a middle-class family and their dynamics.
One of the film's strengths lies in the performances of Vicky Kaushal and Sara Ali Khan. Vicky effortlessly portrays the role of a middle-class man, emoting each scene perfectly. Sara Ali Khan shines as the fiery Punjabi girl who also embodies the role of the ideal middle-class daughter-in-law. Their chemistry on screen is palpable and adds to the film's charm.
The supporting cast, including Neeraj Sood, Kanupirya Pandit, Inaamulhaq, Rakesh Bedi, Harcharan Chawla, and Akash Khurana, deliver wonderful performances, enhancing the overall appeal of the film.
Zara Hatke Zara Bachke is a must-watch for its witty dialogues and impeccable comic timing. It serves as a refreshing escape and a stress buster in the fast-paced life of today. However, it does fall short of its full potential. The film had the opportunity to delve deeper and offer more, but it remains a regular middle-class story with relatable elements. Nonetheless, it is a pure family entertainer that will leave you with a smile on your face.
Rating: 3/5