Seeing Ajay on the sets of Bhola, the crowd ran after him
Seeing Ajay on the sets of Bhola, the crowd ran after him: Thanking the fans by sharing the video, and advised them to wear helmets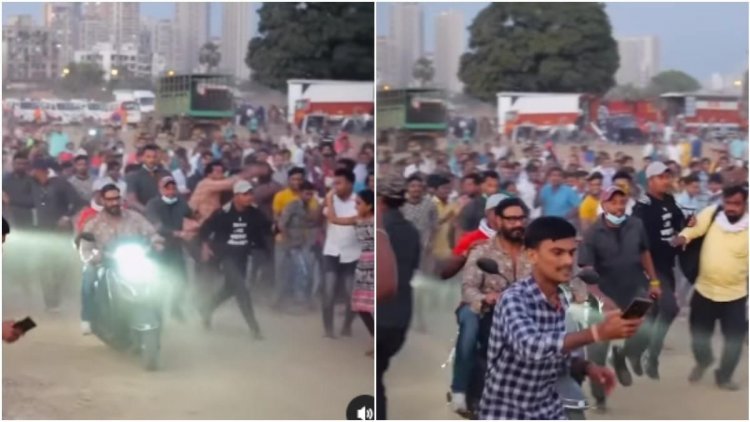 Recently a video of actor Ajay Devgan surfaced. This is from the sets of Ajay's upcoming film Bhola, in which he is seen riding a scooty. It can be seen in the video that seeing Ajay on the set, suddenly the crowd is seen running after him. Ajay himself shared this video and thanked the fans for their love and support. Also advised to wear a helmet while driving.
Sharing the video, Ajay wrote- 'It feels good when the crowd is following you for the right reason. Must wear a helmet while driving, I did not wear a helmet because of the shooting. His fans are reacting fiercely to this video of Ajay.
Of course Ajay Devgan's nephew Danish Gandhi is assisting him. He wants to try his luck as a director in the future. Ajay Devgan has a line-up of four films till the middle of next year. They are Thankgod, Drishyam 2 and Maidan. Bhola's date will be fixed in view of his release. However, if sources on the set are to be believed then the director of this film is Ajay Devgan himself.
There are many changes in this remake as compared to the original film Kaithi. For example, in the original film, the role of a police officer was played by male actor Naren. Naren got a lot of popularity from that character. In the remake, that role has been given to Tabu. In this way, apart from Drishyam 2, she will also be seen as a police officer in this film. The role of the villain has been given to Deepak Dobriyal. In recent years, Deepak Dobriyal was seen in the role of a Hardcore Villain in the film Dabangg.
Ajay Devgan's film Bhola is the Hindi remake of the Tamil film 'Kaithi'. South superstar Karthi Shivakumar played the lead role in this film. The film was directed by Lokesh Kanagaraj. This crime thriller film, which came in the year 2019, was well received by the audience.
On the work front, Ajay will be seen in several films next year. Drishyam 2 hit the box office on 18th November. Apart from this, Ajay will soon be seen in the film Bhola, a remake of the South film Kaithi. Apart from this, Ajay will be seen in the sports drama Maidan. Next year itself, Ajay's film Kitty will also hit the box office. Apart from this, Ajay will also appear in Rohit's film Singham 3. In such a situation, the next year is going to be very busy for Ajay.
For Latest Update from Sangri Today Like us on Facebook and Follow on Twitter. Fore Latest Video News Subscribe our channel on YOUTUBE. Also Join Our Telegram Channel