Rakhi Sawant's mother passes away, crying bitterly outside the hospital
'Nothing left without you, now who will listen to my call': Rakhi Sawant's mother passes away, crying bitterly outside the hospital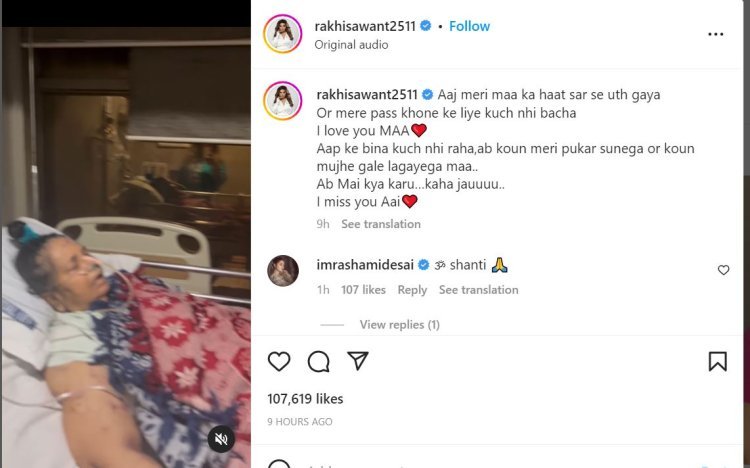 Rakhi Sawant's mother Jaya passed away yesterday i.e. on 28 January. She was admitted to Tata Memorial Cancer Hospital in Mumbai for a long time. Rakhi's mother had cancer and a brain tumour. Jaya's demise was confirmed yesterday by Rakhi and her close friends. Rakhi was with her mother in her last moments. He was seen carrying his mother's body outside the hospital. During this, she looked completely unconscious.
Remembering her mother on her social media, Rakhi has written, 'Today my mother's hand has been lifted from my head, now I have nothing left to lose.' Today Rakhi's mother will be cremated in Mumbai.
Rakhi shared a video of the hospital with her mother, remembering her. Rakhi wrote, today my mother's hand has been lifted from her head, and now I have nothing to lose. I love you mother, I am nothing without you, now who will listen to my call, who will hug me? What should I do now, where should I go? I miss you.
Rakhi Sawant did a live chat on January 9 crying. During this, he said that his mother Jaya has a brain tumour and cancer and because of this she is admitted to the hospital. He also appealed to the people to pray for his mother.
Please tell that in April 2021, Rakhi's mother had undergone surgery to remove a tumour from her gallbladder, which later turned out to be cancer. During that time Salman Khan and his brother Sohail Khan came forward to help Rakhi. Rakhi thanked Salman and Sohail Khan after her mother's recovery.
Apart from this, a few days back, Rakhi shared a video and told that Mukesh Ambani has helped with the treatment of her mother. He said, 'I want to thank Ambaniji. Ambani ji is helping in the treatment of his mother. He has reduced the fees charged in the hospital.
Jackie Shroff, Rashmi Desai, Manyata Dutt, Nisha Rawal, Riddhima Pandit and Ali Goni expressed their condolences on the demise of Rakhi's mother, as well as consoled Rakhi in this difficult situation.
Rakhi Sawant was recently in a discussion about her marriage. The pictures of Rakhi Sawant's court marriage with her boyfriend Adil Khan went viral. Rakhi herself had announced her marriage on her social media. Rakhi did not let anyone know about her marriage.
Although her boyfriend Adil initially refused to say anything about the marriage, later he accepted that he and Rakhi were married. There were also reports of Rakhi's conversion after marriage. According to information, Rakhi has changed her name to Fatima and has converted to Islam.
For Latest Update from Sangri Today Like us on Facebook and Follow on Twitter. Fore Latest Video News Subscribe our channel on YOUTUBE. Also Join Our Telegram Channel