Jyoti Saxena stuns in a black jumpsuit at Rohit K Verma's fashion show at Bombay Times Fashion Week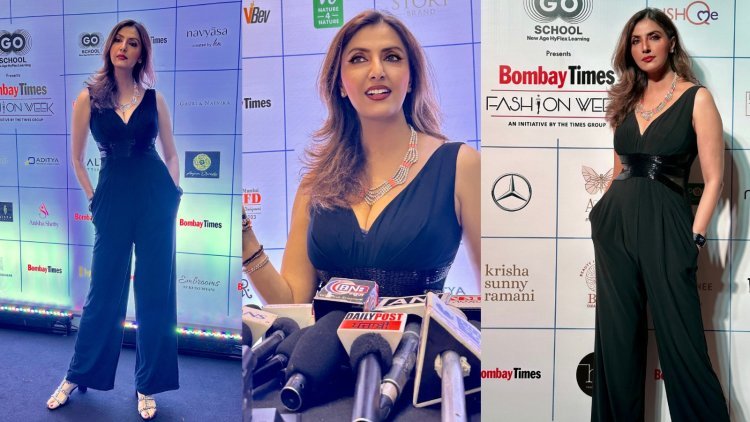 Jyoti Saxena stuns in a black jumpsuit at Rohit K Verma's fashion show at Bombay Times Fashion Week
The recently concluded Bombay Times Fashion Week saw a lot of celebrities and designers come together to showcase their latest collections. Actress Jyoti Saxena was among the attendees and was there to support her dear friend, designer Rohit K Verma. She even walked the ramp for him, showcasing his Banjaran collection.
Jyoti Saxena looked stunning in a black sleeveless jumpsuit, which had a deep plunging neckline, along with a black shimmer waist belt that accentuated her curves. She paired her look with black glam stilettos and minimal makeup, including kohl eyes, winged eyeliner, and maroon lips. Her tresses were kept down with side partitions and wavy curls, and she accessorized her look with a silver layered neckpiece that had an orange beat to it.
Jyoti Saxena expressed her excitement about the show and her friend's collection. "It was an amazing show, and to see my dear friend Rohit decoding the culture of India with such stunning design along with a strong message was a very surreal experience to witness. It's really amazing how designers are allowed to explore and showcase a wide range of cultures. We are definitely missing all this in today's world, and experiencing it through such an astonishing design was amazing. The Banjran theme was something that had every detail covered. Kudos to Rohit and his entire team. To witness Indian culture, designers, and fashion displayed at such a level, was exceptional," said the actress.
Jyoti Saxena is a popular actress in the Indian film industry known for her remarkable personality and stunning looks. On the work front, she is currently shooting for a music video, the details of which will be announced soon.
The BTFW has always been a highly anticipated event in the fashion industry, and this year's event lived up to the hype. The designers showcased their collections with creativity and style, and the audience was treated to a night of exceptional fashion. The event was also an opportunity for celebrities and fashion enthusiasts to come together and appreciate the beauty of Indian culture and fashion.