Jairam Ramesh's Statement- Congress's 'Bharat Jodo Yatra' Turning Point In Indian Politics
Last Monday, Rahul Gandhi tweeted a promo video of three minutes and six seconds about the Congress's Bharat Jodo Yatra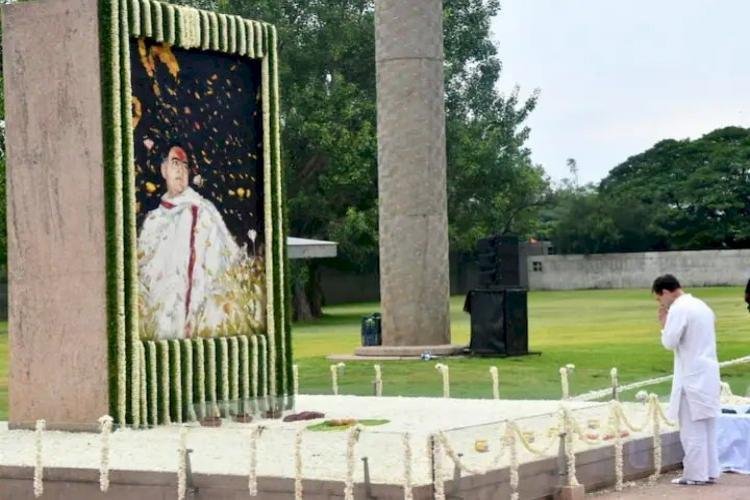 Jairam Ramesh's Statement- Congress's 'Bharat Jodo Yatra' Turning Point In Indian Politics
Congress is going to start the 3570 km long 'Bharat Jodo Yatra' journey today. This journey of Congress will start from Kanyakumari in Tamil Nadu this evening. Earlier, Congress leader Rahul Gandhi paid tribute to his father and former Prime Minister Rajiv Gandhi by visiting the memorial in Sriperumbudur. A prayer meeting was organized on this occasion. Paying tribute to his father, Rahul Gandhi said, "I have lost my father in the politics of hate and partition. I will not even lose my beloved country in this. Love will win over hate. Hope will defeat fear. We will all overcome together."
A tweet was made from the official handle of the Congress party, in which it was written, "The thoughts and lessons of former Prime Minister Rajiv Gandhi continue to inspire Rahul Gandhi even today. Bharat Jodo Yatra is going to start with this enthusiasm.
Last Monday, Rahul Gandhi tweeted a promo video of three minutes and six seconds about the Congress's Bharat Jodo Yatra and wrote in the caption, "Collecting millions of colors, this is the garb of a rainbow. From Kanyakumari to Kashmir, my country is connected. I am coming to your city, your village, your street, to meet you. Together we will unite our India.
Senior Congress leader Jairam Ramesh wrote in a tweet regarding the Bharat Jodo Yatra, "September 7, 2022. A day when the country's oldest political party will start the longest padayatra ever. Today is a day of calm contemplation and renewed determination. This is a turning point in Indian politics. A symbol of a new beginning.

What did the UP Congress and Priyanka Gandhi say?
Uttar Pradesh Congress said, "Under the leadership of Jannayak Rahul Gandhi, we will all restore harmony and goodwill together." "Two India is ready to walk together to put an end to the idea of ​​partition, fight against injustice and tyranny and bring unity to the country. One step of yours, one step of mine, if you get it, then join your country!
Most of the Congress leaders like Ashok Gehlot, Sachin Pilot, Priyanka Gandhi, and Bhupesh Baghel retweeted Rahul Gandhi's tweet on Sriperumbudur today.
Yesterday, in a Facebook video, Priyanka said, "We are starting a positive politics. We want to hear from you, we want to solve your problems. We want to unite our beloved country. Let's unite India together." Bring it."
Ghulam Nabi Azad took a jibe, and Shashi Tharoor replied
At the same time, the reaction of former Union Minister and Congress leader Shashi Tharoor to the Bharat Jodo Yatra also came yesterday. In fact, leader Ghulam Nabi Azad, who left the Congress, had said in a statement that the party should focus on 'Congress Jodo' instead of 'Bharat Jodo'. On this, Congress leader Shashi Tharoor said, "Bharat Jodo Yatra will unite the men and women associated with Congress across the country around our values ​​and ideals by raising issues related to the people and showing that we are fighting for it." can. Then it can be both 'Jodo India' and 'Jodo Congress'."
BJP's strong attack
Assam Chief Minister Himanta Biswa Sarma has targeted Congress's India Jodo Yatra and advised Rahul Gandhi to organize it in Pakistan. Himanta Biswa Sarma said, "India was divided in 1947 during the Congress. If he wants to start India Jodo Yatra, Rahul Gandhi should do so in Pakistan. What are the benefits of doing this Yatra in India? India is connected, and united. I would like to suggest Rahul Gandhi take the India Jodo itinerary to Pakistan.
BJP's national spokesperson Sambit Patra has targeted Congress's Bharat Jodo Yatra as the 'Save the Gandhi family' movement. Let us tell you that a target has been set to complete the India Jodo Yatra of Congress from Kanyakumari to Kashmir in 150 days. During this, the Yatra will pass through 12 states and two union territories of the country. A journey of 25 km will be covered every day. This visit of the Congress is being seen in view of the preparations for the 2024 Lok Sabha elections.