First squadron of indigenous helicopter Rudra will be stationed in Jodhpur
The first squadron of indigenous helicopter Rudra will be stationed in Jodhpur: Will keep an eye on the Pak border; Landing can also be done on the peaks of Siachen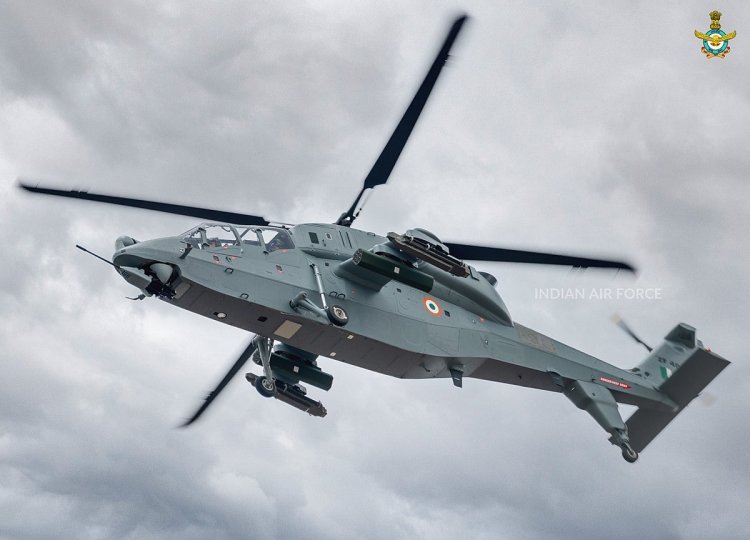 Indigenous attacker helicopter Rudra is going to be deployed at the country's largest and most powerful Jodhpur Air Force Station. This will be the country's first squadron of Light Combat Helicopters (LCH) to be stationed in Jodhpur. This will be the first squadron of the Air Force version. In June last, the army got its squadron.
10 helicopters are going to be received from Hindustan Aeronautics Limited (HAL) on Air Force Day on 8 October. This will increase the air force on the western border. Five years ago, the first squadron of indigenous Advanced Light Helicopters was stationed in Jodhpur.
Its specialty is that it will keep an eye on the Indo-Pak border and India-China border. It can land on top of Siachen. It also has a gun in the front.
On 1 June, the Indian Army created the first squadron of Light Combat Helicopters in Bengaluru. It is being told that it will be extended further next year so that it can keep an eye on China's activity on the LAC and put an end to their antics. According to the army, it will buy 95 more LCH now. Seven units of these will be made. Out of which seven will be deployed in hilly areas.
Rudra has a maximum speed of 268 mph and a range of 550 kms. This helicopter can fly continuously for 3 hours and 10 minutes. Can go up to a maximum height of 6500 feet. It has a 20 mm gun, which can attack air-to-air and air-to-ground. Apart from this, there are four hardpoints i.e. rockets, missiles and bombs that can be planted simultaneously.
The Light Combat Helicopter is an evolved variant of the Dhruv Helicopter. For the first time, its lack was felt during the 199 Kargil War. However, the work on its developed form was going on then. Be it Siachen, desert, jungle, or the Himalayan mountains of 13-15 thousand feet high, this helicopter demonstrated its ability to fly in all types of areas of India during the trials.
The enemy can neither hide nor attack with the state-of-the-art avionics system installed in this helicopter, because these systems inform this helicopter as soon as it becomes the target of the missile. Apart from this, a radar and laser warning system has been installed. There are also the chef and flare dispensers, so that enemy missiles and rockets can be destroyed in the air.
These indigenous LCH helicopters have been trialled from Siachen Glacier to the desert of Rajasthan before being fully prepared for the Indian Air Force. During this, a sufficient amount of fuel and its weapons were also engaged in the LCH. Even before formally joining the Air Force, two LCH helicopters have been deployed on the LAC adjoining Eastern Ladakh.