CP Joshi's statement - CM Gehlot is a victim of mental bankruptcy
CP Joshi's statement - CM Gehlot is a victim of mental bankruptcy: Taking the name of BJP, he is tightening his own MLAs and ministers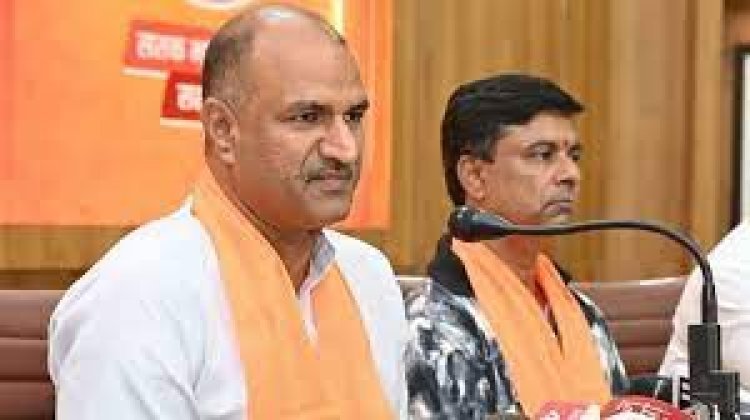 BJP State President CP Joshi has hit back at the allegations leveled by Chief Minister Ashok Gehlot. Releasing the statement, Joshi said that the mental bankruptcy of CM Ashok Gehlot's thinking has come out. He repeatedly comments on Prime Minister Narendra Modi. Whenever the Prime Minister comes to Rajasthan, he sounds the bugle of development works here.
He said that it is natural for the CM to feel pain. The Chief Minister wants to attract the people of the state with announcements and gimmicks, while there is zero on the ground. In such a situation, he repeatedly targets PM Modi.
In fact, today CM Gehlot, in a press conference, while targeting PM Modi on the Manipur incident, said that it had been 77 days. PM didn't say a word. But as soon as the Supreme Court ordered, then the PM spoke. Gehlot had said that if a state is on fire and you do nothing.
State President CP Joshi said that CM Gehlot is taunting the leaders and MLAs of his own party by taking the name of BJP. Because of the topics that the CM talked about today. The leaders and legislators of his party have raised questions on the government regarding those subjects. They have also come to know that you cannot provide security to women, stop paper leaks, reduce crime, provide employment to youth, waive off loans of farmers, cannot be serious about increasing atrocities on Dalits, but you must be brave in declaration and statement. The people of the state have completely rejected you.
CP Joshi said that Chief Minister Gehlot is scared of the success of BJP's "Nahi Sahega Rajasthan" campaign. Because this campaign is getting tremendous support from the public and the corruption of the Congress government is being exposed. Chief Minister Gehlot has closed his relief shop and is sitting at home. How can they see the sufferings of youth, farmers, elders, women, and Dalits of the state?