Attack on RSS member's house in Tamil Nadu: 3 accused absconding by throwing petrol bombs
Attack on RSS member's house in Tamil Nadu: 3 accused absconding by throwing petrol bombs; second incident of the day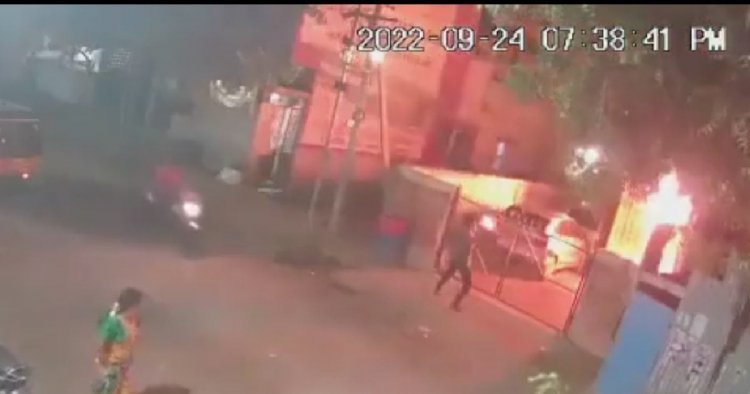 In Tamil Nadu, an unidentified man hurled three petrol bombs at the RSS leader's house on Saturday evening. This incident is from the Pattanadi area of ​​Madurai. The accused easily escaped by throwing petrol bombs. However, no one was reported injured in the incident.
RSS member is being targeted in the state. This is the second such incident in a single day. Earlier a petrol bomb was hurled at the RSS leader's house in Tambaram near Chennai.
The incident of a petrol bomb being thrown at RSS leader Krishnan's house in Madurai was captured on CCTV. In the footage, a man can be seen running towards Krishnan's house. He has three petrol bombs in his hand and throws them in the house in turn. After throwing the bomb, he very easily escapes from the spot.
A petrol bomb was hurled at BJP worker Sarath's house in Kuniyamuthur town of Tamil Nadu on Friday. A car was damaged in this incident. A day before this, a burning bottle filled with petrol was thrown at the BJP office on Thursday. In view of the increasing incidents, BJP workers are demanding action against the culprits.
NIA raided 93 locations of Popular Front of India (PFI) in 15 states. Since then, incidents of petrol bomb attacks are coming to the fore from across the country. BJP leaders have been targeted not only in Tamil Nadu but also in Kerala.
After NIA raids, PFI protested in Kerala on Friday. Buses and vehicles were vandalized at many places.
Petrol bombs were hurled at the RSS office in Mattanur, Kannur. However, no one was injured in this. According to the police, two policemen were attacked by bike-borne PFI workers in Kollam. 5 PFI workers were detained in Thiruvananthapuram.