Arvind Kejriwal will address public meeting at Jantar Mantar: Bhagwant Mann will also be present
Arvind Kejriwal will address a public meeting at Jantar Mantar: Bhagwant Mann will also be present; the Remove Modi, save the country slogan, will be raised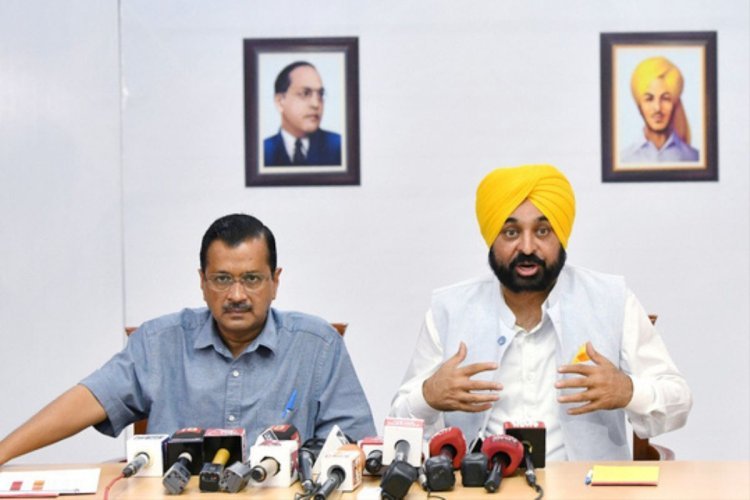 Delhi CM Arvind Kejriwal and Punjab CM Bhagwant Mann will address a public meeting at Jantar Mantar in Delhi on Thursday. This public meeting is being held in Delhi because of the action taken after putting up posters against PM Modi.
According to Delhi government minister and AAP leader Gopal Rai, all the MLAs, MPs and office bearers of the party will be present in this meeting. During this, the slogan of Modi Hatao, Desh Bachao will be raised from the stage.
Minister of Delhi government and AAP leader Gopal Rai said in the press conference that Aam Aadmi Party is not afraid of the action of the Delhi Police. He announced that AAP would launch a countrywide 'Modi Hatao, Desh Bachao' campaign on Thursday. Gopal Rai further said that he would carry this slogan till the next Lok Sabha elections.
Martyr's Day is also on Wednesday. Bhagat Singh, Rajguru and Sukhdev were hanged on this day. Gopal Rai said that Arvind Kejriwal and Bhagwant Mann will remember Shaheed-e-Azam Bhagat Singh, Rajguru and Sukhdev in the public meeting.
Posters of 'Modi Hatao, Desh Bachao' were put up in the capital on Wednesday. In this case, the police registered 36 FIRs and arrested 6 people. These include two printing press owners. A van carrying the posters was also seized.
The Aam Aadmi Party has termed the police action as dictatorial. The party wrote on its official Twitter handle – The dictatorship of the Modi government is at its peak. What is so objectionable in the poster that Modi ji got 100 FIRs lodged for putting it up? You probably do not know PM Modi, but India is a democratic country, why so much fear of a poster?
According to news agency ANI, Special Commissioner of Police Dipendra Pathak told, 'Two printing press firms had received an order to make 50,000 such posters each. Employees associated with the companies put up many of these posters in different areas of the city from late Sunday night till Monday morning. The police have arrested the owners for not publishing the name of the printing press.
According to reports, a similar case came to the fore two years back as well. When posters criticizing Modi were put up during the Covid vaccination drive in Delhi. Then the Delhi Police arrested 30 people. Whereas, 25 FIRs were registered.
Two former ministers of the Delhi government, Satyendar Jain and Manish Sisodia, are still in jail. The Aam Aadmi Party is also firm with the central government regarding this. The Aam Aadmi Party accuses the BJP of using central agencies.
Sisodia was arrested by the CBI on February 26 in the Delhi Liquor Policy case. He was produced in the court on February 27, and from here Sisodia was sent on 5-day CBI remand. Currently, he is in ED custody. The court on Wednesday extended his custody for 14 days. He will be in ED custody till April 5.
Delhi's Health Minister Satyendar Jain was arrested by the ED on 30 May 2022 in a money laundering case. Jain, his wife Poonam and others were booked in the disproportionate assets and money laundering case. It is alleged that Jain had allegedly created or bought several shell companies in Delhi. Jain is also lodged in Tihar Jail.