Raj Thackeray said - I will make everything straight if the government is formed
Raj Thackeray said - I will make everything straight if the government is formed: If the mausoleum in Mahim is not removed in a month, then a big Ganpati temple will be built near it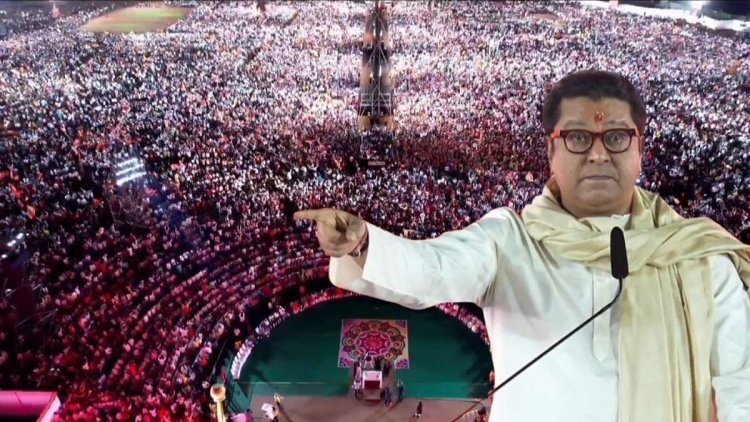 Maharashtra Navnirman Sena (MNS) chief Raj Thackeray addressed a rally at Shivaji Park in Mumbai on Wednesday. He said that once the state comes into my hands, I will make everything straight. During this, he showed a video of a dargah being built in the sea near Mahim in Mumbai. He said that an unauthorized tomb has been made here. If it is not broken, then a big Ganapati temple will be built near it.
Raj Thackeray said that there was nothing here till a few days back. Now the Mazar is being built here in an unauthorized manner. Mahim Police Station is close by. The employees of the Municipal Corporation keep roaming. Everyone is asleep. No one knows anything. I give you one month's time to remove it.
I don't want fanatic Hindus. I want a religious Hindu. I want a Muslim like Javed Akhtar, who can go to Pakistan and show them the mirror. During this, Raj Thackeray also ran Javed Akhtar's bite on the stage. In fact, Javed Akhtar condemned terrorism at the Faiz Festival held in Pakistan. He had said that the people who carried out the 26/11 Mumbai attack are still roaming in your country. If this complaint is in the heart of every Indian, then you should not feel bad.
Don't want to speak about why I came out of Shiv Sena. Some people are making this story that I wanted to become Shiv Sena chief. This is absolutely false. I knew that no one would be able to handle Dhanush Baan except Balasaheb Thackeray. He said that the politics of Maharashtra has changed a lot in the last two years. Sorry to see tu-tu, main-main in the fight for Shiv Sena's election symbol Dhanushbaan. Look at the condition of those who used to call us the finished party today. Seeing this crowd, can anyone say that MNS is a finished party?
Raj Thackeray demanded the government stop loudspeakers from mosques. He said that there is a demand from my government that you tell the people to stop the loudspeakers from the mosque, otherwise, we will get them stopped, and you divert attention from us.