AAP took out a foot march in Jaipur in support of wrestlers
AAP took out a foot march in Jaipur in support of wrestlers: Paliwal said - the central government is saving MP accused of rape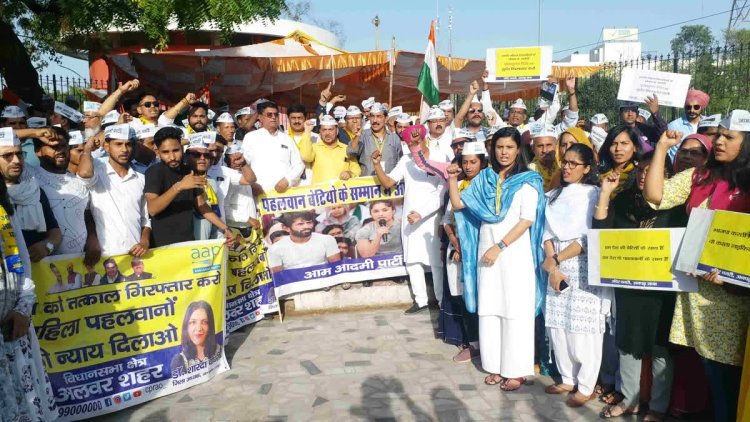 In support of women wrestlers protesting at Delhi's Jantar Mantar, Aam Aadmi Party took out a foot march from Martyr's Memorial to Albert Hall in Jaipur. During this, State President of Aam Aadmi Party Naveen Paliwal said that daughters are sitting on dharna at Jantar Mantar in the hope of justice.
But the Modi government at the centre is sitting blindly. Till now no action has been taken on this entire matter. Due to this, the public has also come to know the reality of the government. In such a situation, now slowly the whole country is uniting in support of the daughters. Whose loss will have to be borne by the Modi government at the centre?
Paliwal said that the government giving the slogan of save daughter is not ready to wake up from its slumber. This shows that the BJP is making the police a pawn to save its leader. He said that if the central government will not take action against Brijbhashan Singh. So Aam Aadmi Party will do a big movement in favour of wrestlers across the country.
Paliwal said that BJP is trying to save its leader. He has an old association with controversies. In 2019, the CBI had registered a corruption case against Brij Bhushan. which is still going on. After all, why is the BJP not taking action against a leader with such a controversial image? What is this compulsion?
Which is preventing the BJP and the Central Government from taking action against Brij Bhushan Sharan Singh. On the other hand, a large number of Aam Aadmi Party workers and leaders including State President Sports Cell CP Rao, Vice President Rajveer Mayal, and Sports Cell District President Dr Sharda Chowdhary were present in the foot march.