Urvashi Rautela's First-ever Dharma Film: Fans Thrilled and Eagerly Awaiting Official Announcement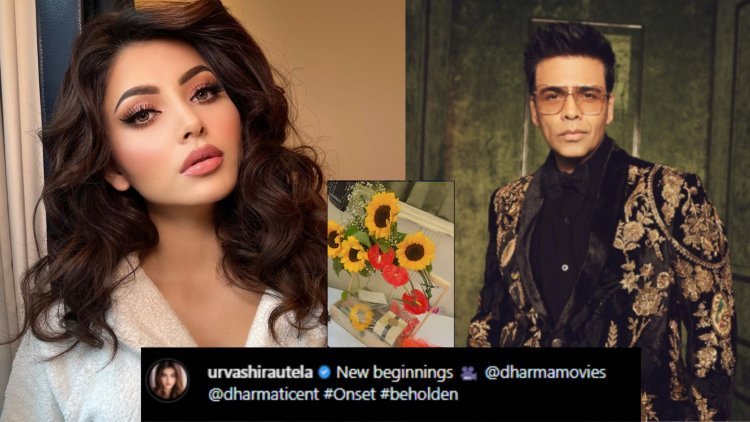 Urvashi Rautela's First-ever Dharma Film: Fans Thrilled and Eagerly Awaiting Official Announcement
Urvashi Rautela, one of Bollywood's youngest and most successful actresses, has reportedly signed with Dharma Productions and Dharmatic for her next film. The news has created a buzz among fans and industry insiders, who are excited to see what this collaboration will bring to the big screen.
Urvashi Rautela recently shared an intriguing video on her social media platforms, which hinted at her collaboration with Karan Johar's Dharma Productions. In the video, Urvashi is seen being welcomed on set with a hamper decorated with sunflowers, and she expressed her gratitude towards the team and her excitement for this new venture. Although Urvashi did not reveal any specific details about the film, her message has left fans thrilled and eagerly awaiting an official announcement.
With her talent and charm, Urvashi has carved a niche for herself in the Indian film industry, and her collaboration with Dharma Productions is expected to take her career to new heights. Dharma Productions has a reputation for producing some of Bollywood's most successful and critically acclaimed films, and the addition of Urvashi Rautela to their roster is a testament to her talent and potential.
View this post on Instagram
Although further details about the project are yet to be revealed, fans are already buzzing about the possibilities. With Urvashi's versatility and dedication, and Dharma's touch, audiences can expect a cinematic experience that will leave a lasting impression. The collaboration between Urvashi Rautela and Dharma Productions is undoubtedly one of the most highly anticipated events in Bollywood, and fans cannot wait to see what the future holds for this talented actress.
Urvashi Rautela's association with Dharma Productions and Dharmatic has generated a lot of excitement in the industry, and her fans are eagerly anticipating the release of her next film. Her talent, charm, and dedication are sure to shine through in whatever project she takes on, and her collaboration with Dharma Productions is no exception. We can expect a captivating cinematic experience that will leave audiences wanting more.