Twin sisters marry same boy; Both brides are IT professionals
Twin sisters marry the same boy: Both brides are IT professionals, now a case filed against the groom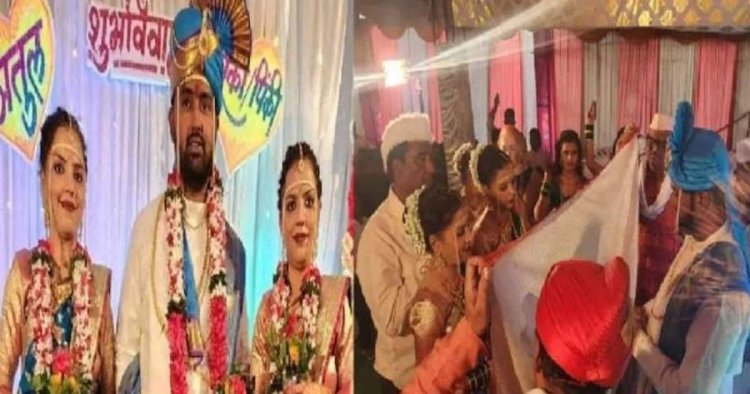 Twin sisters married the same boy in Solapur, Maharashtra. The marriage took place on Friday in Malshiras. Both sisters are IT engineers. They have been like friends since childhood and want to be together even further. Both decide to marry a boy named Atul. The video of this marriage is going viral on social media. After the video surfaced, people are asking, is this marriage legally valid? At present, the police have registered a case against the groom.
According to media reports, Atul has a travel agency business in Mumbai. Basically, he is a resident of Malshiras taluka. Pinky and Rinke's father had died a few days back. After this, both the sisters started living in Malshiras taluka with their mother.
After the father's death, the sisters' mother also started falling ill. A few days ago his mother's health suddenly deteriorated. During that time Atul helped in taking his mother to the hospital. Then slowly Atul came closer to Pinky and Rinke. Now all three have got married with the consent of the family.
When the video of their marriage went viral, a person complained to the police. After this, the police became active and registered a case under section 494 against the groom.
For Latest Update from Sangri Today Like us on Facebook and Follow on Twitter. Fore Latest Video News Subscribe our channel on YOUTUBE. Also Join Our Telegram Channel