Scooty rider dragged old man for 1KM in Bengaluru: People surrounded and caught him
Scooty rider dragged old man for 1KM in Bengaluru: People surrounded and caught him; The victim said - hit my car, stopped then pulled away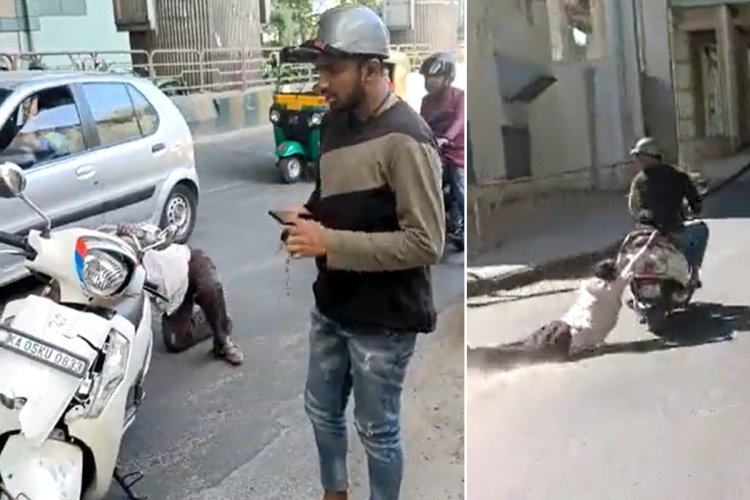 In Bengaluru on Tuesday afternoon, a youth riding a scooty first hit an old man and then dragged him for a kilometre. He kept turning back, again and again, to see that the old man was dragging along with his scooty, but he did not stop. When the people surrounded, then the young man stopped the scooty. The police arrested him and admitted the victim to the hospital.
The incident is on Magadi Road, Bangaluru. An old man named Muthappa was going somewhere in his Bolero car. Meanwhile, a young man named Sahil riding a scooty hit him from behind. During this, he was also talking on his mobile. The elders got down from their car and went to the accused. When Sahil started running after seeing them, the old man caught the scooty of the accused from behind. Even after doing this, Sahil did not stop but dragged them on the road for about 1 kilometre.
The video of the incident has surfaced. It can be seen that Sahil is dragging the old man with his scooty. The old man is holding the back handle of the scooty. Many people are chasing the scooty to save the old man. Despite this, the accused did not stop. When the number of people started increasing, the accused stopped in fear.
The victim said that the accused hit my vehicle from behind. If he would have stopped and apologized to me, I would have let him go. When he tried to run away, I caught the scooty. I thought he would stop, but he started dragging me.
For Latest Update from Sangri Today Like us on Facebook and Follow on Twitter. Fore Latest Video News Subscribe our channel on YOUTUBE. Also Join Our Telegram Channel