Ragi Poori, Jowar Upma will be available in the Parliament canteen
Ragi Poori, Jowar Upma will be available in the Parliament canteen: Millet food will be included in the menu from Tuesday itself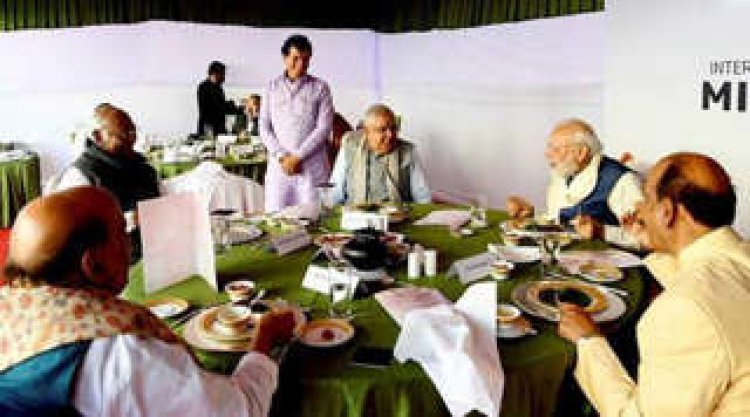 Ragi Poori, bajra khichdi, jowar upma, ragi laddoos and bajra churma will also be available in the Parliament. Under the International Millet Year, all these new foods along with traditional biryani and cutlets will be available in all the canteens of Parliament from Tuesday.
The menu has been prepared by Montu Saini of ITDC. Montu was the executive chef at Rashtrapati Bhavan for five and a half years. While ITDC is running the canteen of Parliament since 2020.
The millet menu prepared for the Parliament canteens includes bajra raab (soup), ragi dosa, ragi ghee roast, ragi thatte idli, jowar vegetable upma as a starter, and maize/millet/jowar roti in the lunch menu. Along with mustard greens, ragi puri with potato curry, mix millet khichdi, bajra khichdi with garlic chutney, kesari kheer, ragi walnut laddoos and bajra churma.
According to the reports, the menu has been prepared in such a way that the culinary variety of the country is visible. Like oats milk, soya milk, ragi peas broth, bajra onion muthia (Gujarat), shahi bajra tikki (Madhya Pradesh), ragi dosa with peanut chutney (Kerala), amaranth salad and korra with millet salad.
The government is promoting the production and consumption of millets. Meanwhile, in his Mann Ki Baat address on Sunday, Prime Minister Narendra Modi had said that every G20 summit in India would include dishes made from millets. After this, Lok Sabha Speaker Om Birla also demanded a special millet menu for the members, so that the MPs would get a chance to choose from the new menu.
The Government of India had proposed to the United Nations General Assembly (UNGA) to declare 2023 as the International Year of Millets. This proposal of India was supported by 72 countries. The UNGA declared 2023 as the International Millet Year in March 2021. Millets include small grain cereals such as jowar, bajra, kodo, kutki, ragi.
Millets are one of the first domesticated crops in the country. There is evidence of their consumption in the Indus-Saraswati Civilization (3,300 to 1300 BCE). Although many cultivars are now grown around the world. West Africa, China and Japan are also home to indigenous varieties of millets crops.