Pradeep Pandey's film Khiladi's new song 'Gale Nu Jagle Hola' released, romantic chemistry seen with Shahar Afsha
Hit actor of Bhojpuri cinema Pradeep Kumar Chintu is counted in the list of high pad stars of the industry. Pradeep has given many hit films till now. At the same time, he is once again in the headlines for his upcoming movie.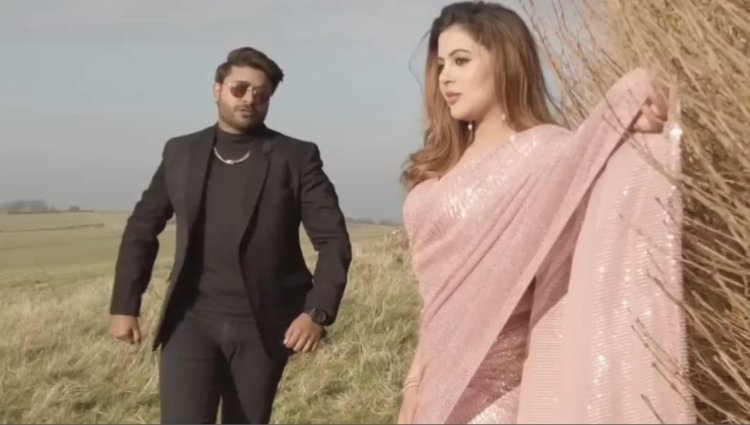 Bhojpuri action star Pradeep Pandey Chintu and Shehar Afsha starrer Bhojpuri film 'Khiladi' is going to Jio Studio release zone on June 4. Recently the trailer of the film was released, which has been well received by the audience.
At the same time, now the new song of the film 'Jagle Nu Jagle Hola' has been released from Worldwide Records. This song has been picturized on Pradeep Pandey Chintu and Shehar Afsha. The romantic chemistry between the two is worth watching in the song. In the song, where Chintu is wearing a coat and pants, the same city is seen wearing an Indian outfit i.e. saree.
In the song, Shehar Afsha tells her beloved Pradeep, "Jab se pyaar bhailwa e sajjan... din raat hola bada gajab... tohra upar laget ke bhail na asarba...." At the same time, Chintu replies to his girlfriend saying, "Jagle nu jagle hola dhani hamaro bhi nasarwa... Jagiya se gaal chumlu tu udaake ho acharwa jagle nu jagle hola..."
The song 'Jagle Nu Jagle Hola' is sung by trending singer Shilpi Raj and singer Vijay Chauhan in their melodious voices. In the song, Chintu and the city are seen dancing sometimes on the seashore and sometimes on the streets of London. With the release of the song, it has gone on the tongue of the audience. On the other hand, the romance between the two in the song will take you to a different world, seeing which you will also remember your college days. The song has been released from the official YouTube channel of Worldwide Records.
Let us tell you that recently the trailer of 'Khiladi' was released, in which Chintu was seen doing action. Whereas, Shehar Afsha is seen trapped in the honey trap. In the trailer, the audience is getting to see a lot of action, romance, and drama. At the same time, its songs are also being liked by the audience. All the characters have been given space in the Khiladi trailer. The world premiere of the film is going to be held at Jio Studios on 4th June. The Bhojpuri film Khiladi presented by Yashi Films and Jio Studios is produced by Jyoti Deshpande and Abhay Sinha. The director is Ananjay Raghuraj.