Opposing Sajid was heavy for DCW Chief: Told – Rape threats are being received since writing the letter
Opposing Sajid was heavy for DCW Chief: Told – Rape threats are being received since writing the letter, demanding the police to punish the accused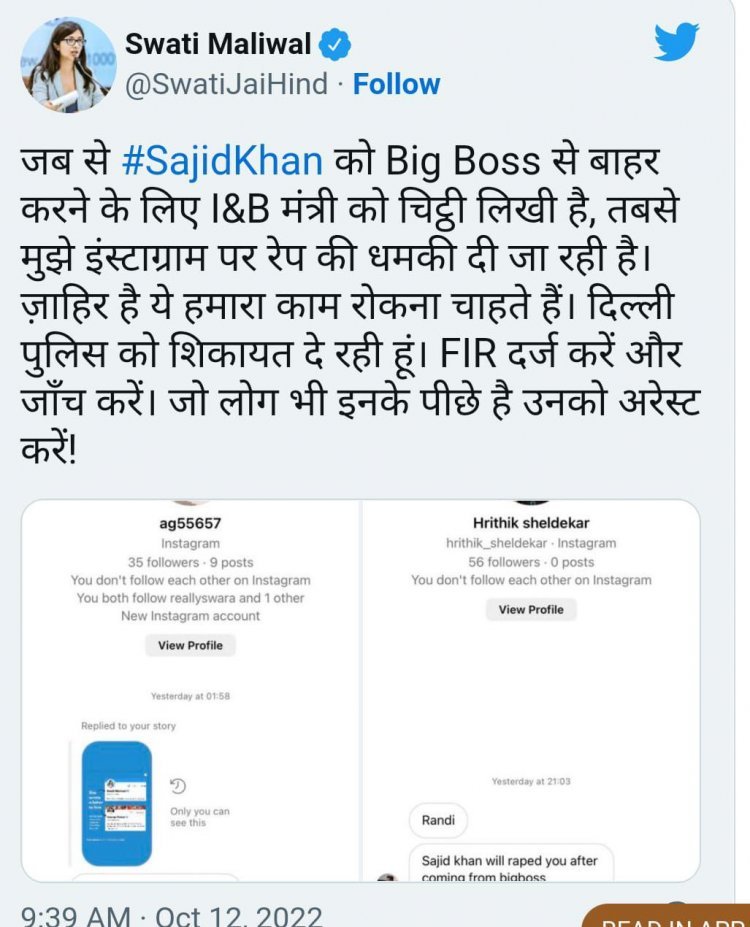 Delhi Commission for Women Chief Swati Maliwal recently opposed Sajid's stay in Bigg Boss. Since then, the demand for Sajid's exit from the show has intensified. Now recently Swati tweeted that she has been getting rape threats on social media ever since she wrote a letter to the IB Minister and complained.
Swati said that she has already lodged a complaint with the police in this matter. She has requested the police that strict action should be taken against the culprits. Sharing screenshots of threats on social media, Swati wrote – Ever since I wrote a letter to the IB Minister to get Sajid Khan out of Bigg Boss, I have been receiving rape threats on Instagram. Obviously, they want to stop this protest. My request to the police is to register an FIR and arrest those who are behind it.
On Monday, Swati had written a letter to Information Broadcasting Minister Anurag Thakur, protesting Sajid's entry. He has demanded to remove Sajid Khan be from the show. Posting on Twitter, Swati wrote – '10 women made allegations of sexual abuse against Sajid Khan during the Me Too movement. Yo, all the complaints tell about the disgusting mentality of Sajid. Such a man has been given a place in Bigg Boss, which is completely wrong. Along with this tweet, Swati also shared a copy of the letter written to the IB Minister.
Responding to Swati's letter, on October 11, the Federation of Western India Cine Employees i.e. FWICE supported Sajid. Supporting the director, FWICE has written a letter to Information and Broadcasting Minister Anurag Thakur. In the letter, FWICE took the side of Sajid and said that the director was banned for one year, he has already served his sentence. The ban imposed on him has been lifted since March 2019, so he can remain a part of Bigg Boss 16.
In fact, in the year 2018, Sajid was accused of sexual abuse by 10 women under the Me Too movement. Due to this, the Indian Film and Television Association banned Sajid for a year. In such a situation, after a long time, Sajid has once again returned with Bigg Boss. Though controversy erupted as soon as he enters Bigg Boss, many film personalities objected to Sajid being on the show.