Netanyahu said – Iran alone is equal to 50 North Korea
Netanyahu said – Iran alone is equal to 50 North Korea: Told American MPs – they consider Israel to be small and America to be a big devil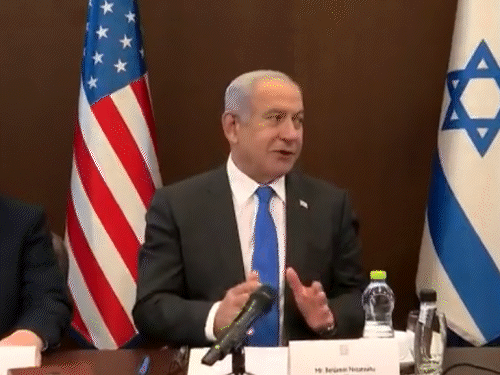 Israel's Prime Minister Benjamin Netanyahu met the delegation of American lawmakers on Thursday. The meeting took place at the Prime Minister's Office in Jerusalem. During this, Netanyahu was asked a question about Iran.
In response to this, he said – Iran alone is equal to 50 North Korea. It's not just the neighbour who bothers you. Rather, they consider Israel as a small devil and America as a big devil. Netanyahu also talked about Iran's capability to make nuclear weapons and the threat it poses to America.
In December 2022, 74-year-old Benjamin Netanyahu formed the government for the 37th time in Israel. After this, his party introduced a bill to make itself more powerful. In which it has been suggested to reduce the powers of the Supreme Court. Demonstrations have been going on there for several months regarding this. In such a situation, US President Joe Biden has not yet invited him to visit the US.
Republican Party MP and Upper House Speaker Kevin McCarthy criticized Biden for this. On his visit to Israel, he said- According to tradition, Biden has not yet invited Netanyahu to come to America. If he does not do so soon, I will personally call Netanyahu to America.
Israel's Defense Minister has accused Iran of increasing its ability to make nuclear weapons. He said that Iran is not going to be happy with making a nuclear weapon. He has collected 60% of the material to make 5 nuclear weapons. If it becomes 90% then it will spread unrest in the whole area.
In fact, America and Western countries are resorting to sanctions to stop the race to acquire nuclear weapons in the world. Under this, he has imposed economic and other sanctions on many countries including Iran and North Korea. Israel became a nuclear weapons state in 1966. Now he does not want Iran to become capable of making these weapons.
A deal was struck in 2015 to prevent Iran from building nuclear weapons. It included Iran, Britain, China, France, Germany, Russia and the US. It was decided in this deal that Iran would get its nuclear reactors inspected from time to time by the UN and it would not take its nuclear program any further. However, in 2018, President Donald Trump pulled the US out of the agreement. The result was that sanctions were again imposed on Iran.