Jaish terrorist Kamran killed in Jammu and Kashmir
Jaish terrorist Kamran killed in Jammu and Kashmir: Security forces encircle many terrorists in Kulgam-Shopian, encounter continues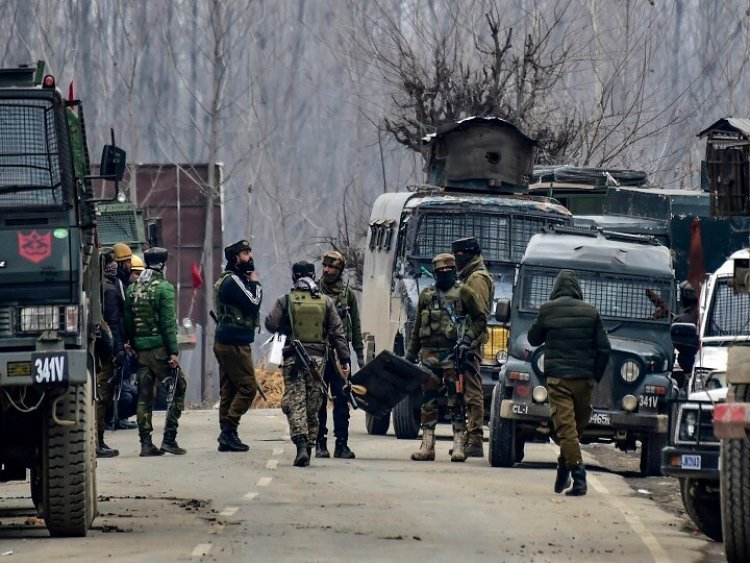 A Jaish-e-Mohammed terrorist has been killed by security forces in Shopian, Jammu and Kashmir. The terrorist has been identified as Kamran Bhai alias Hanees, who was active in the Kulgam-Shopian area and has been involved in many terrorist incidents. According to the Jammu and Kashmir Police, an encounter is going on with the terrorists in the Kapreen area of ​​Shopian. Still, some more terrorists are reported to be hiding, due to which the entire area has been cordoned off and a search operation is going on.
Earlier on Thursday, security forces busted a terror funding and recruitment module in Kupwara. 6 terrorists were also arrested in the case. The operation was carried out on Wednesday with Kupwara Police and Army's 21 Rashtriya Rifles (RR) and 47RR. 5 pistols, 10 magazines, 49 pistols, ammunition, 2 grenades and an IED were recovered from the arrested terrorists.
Earlier on November 1, security forces had killed 4 terrorists. In these, 3 terrorists were encountered in Pulwama and 1 terrorist in Anantnag. LeT commander Mukhtar Bhat was gunned down by security forces in Pulwama. These terrorists were preparing for a fidayeen attack on the security forces camp.
To stop terrorist activities in Jammu and Kashmir, a joint team of police and army is continuously running Operation Allout in the valley. According to media reports, a total of 177 terrorists have been killed till the first week of November. Of these, 51 were foreign and 126 local terrorists. A total of 134 active terrorists are present in the valley as compared to the Jammu and Kashmir Police. Of these, 83 are foreign and 51 are local terrorists.
For Latest Update from Sangri Today Like us on Facebook and Follow on Twitter. Fore Latest Video News Subscribe our channel on YOUTUBE. Also Join Our Telegram Channel