Indian Oil launches matrimonial portal
Indian Oil launches matrimonial portal: Employees will be able to find life partners in the company itself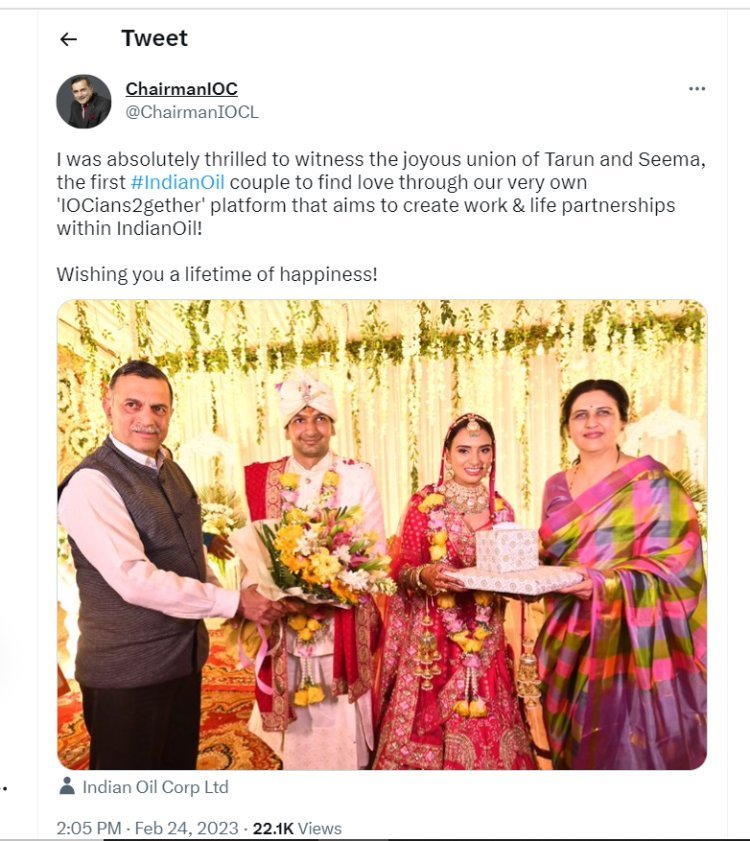 Indian Oil Corporation (IOC) has taken upon itself the responsibility of matchmaking for its employees. In fact, the company launched a matrimonial portal in January 2023. So that the people working in the company can choose their life partner among the people doing the same work. This effort of the company also seems to be successful. On February 24, two employees of the company got married through this service.
The name of this new service of Indian Oil is IOCians2gether. Through this service, two employees of the company Seema Yadav and Tarun Bansal were found. Recently he has also got married. Seema and Tarun are the first couples to get married through the company's new service. The wedding was also attended by IOC Chairman and Managing Director Shrikant Madhav Vaidya. He has also shared the wedding picture on social media, which people are liking a lot.
Sharing the photo of the couple's wedding on social media, Srikanth wrote that I was thrilled to see the union of Tarun and Seema. This is the first couple to find their life partner through our platform 'IOCians2gether'. Wish you a lifetime of happiness.
Seema and Tarun have been working in the research and development department of the company for the past five years. They met after the launch of the matrimonial portal. Then the very next month both got married. However, some users on social media are saying that the couple must have already planned the wedding. This marriage was done to promote the matrimonial portal.