Half CA Trailer: After Engineering and IAS, now the show on CA preparation, will know what is the pain of Half CA!
Half CA Trailer And Release Date: There are many shows in the OTT space that are dedicated to students and college life. In some of these, hostel life is shown, and in some, the confusion and expectations of the students preparing for competitive examinations. One such show is coming up now titled Half CA which is dedicated to commerce students.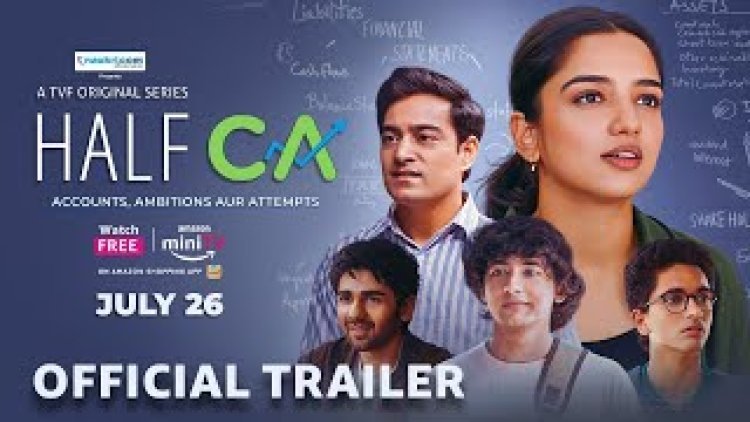 In middle-class families, most of the emphasis of the parents is on the education and career choice of the children. There is a general belief that those studying science are the fastest and those studying the commerce stream are weaker than them.
The cutoff for admission to science courses is also high. But, this concept fails when children have to sit for CA (Chartered Accountant) exam. CA is still one of the toughest courses in the country.
Lakhs of children start every preparation with the desire to become a CA, but the passing percentage in the exam is very low, due to which many people are not able to go ahead with CA Inter or there is a gap of many years between passing CA Final after CA Inter.
It is shown in the trailer that Ehsaas Channa reaches Mumbai with the dream of becoming a CA and joins an institute, where she meets other students. The show shows how CAs are very important for this country. The show is composed of expressions of despair, frustration, hope, and hope.
The upcoming series Half CA on Amazon Mini TV showcases all such aspects of this tough course. The Viral Fever has produced the show, while Pratish Mehta is the director. Harish Peddinti, CA Khushbu Baid, and Tatsat Pandey have written the show.
Popular OTT actors like Ehsaas Channa, Preet Kamani, Gyanendra Tripathi, Anmol Kajani, and Rohan Joshi will be seen in pivotal roles in the show. It was announced on CA Day on July 1. Now the trailer of the show has been released on 20th July. Half CA will be aired on July 26 on Amazon Mini TV.
Half CA adds to the list of educational shows present in the OTT space, which includes shows like Aspirants and Kota Factory. While Aspirants tells the story of students coaching for IAS, Kota Factory depicts the lives of students coaching for tough exams like the IIT entrance test. In these shows, along with student life, there is also the thrill of life's ups and downs.