Degrees of newly elected Panch-Sarpanchs will be checked in Haryana
Degrees of newly elected Panch-Sarpanchs will be checked in Haryana: Election Commissioner orders DCs of 18 districts to sack them immediately if found fake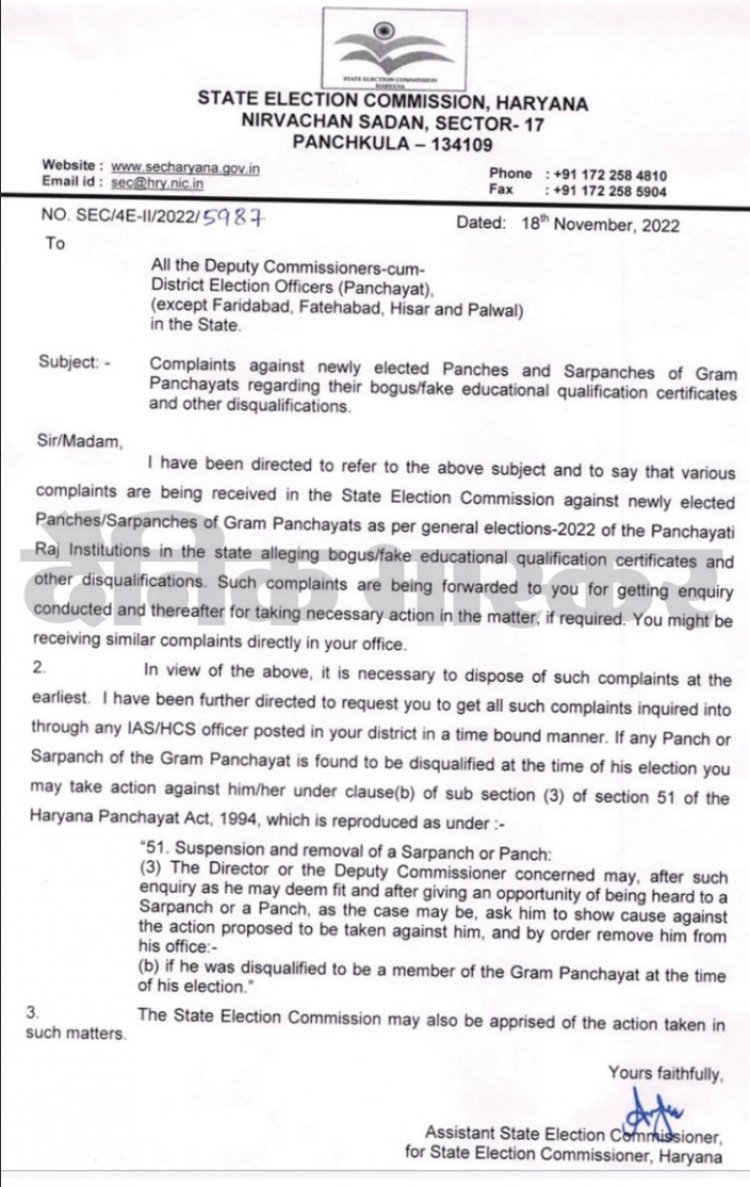 The Haryana Election Commission has suddenly ordered an inquiry into the degrees of the elected panch-sarpanch in the state. The commission has issued letters to the deputy commissioners of 18 districts. It has been said that complaints have been received about degrees of many of these panches and sarpanches being fake or bogus. They should be examined. The investigation should also be conducted by an IAS or HCS officer. The time limit for the investigation should also be fixed.
If the degree of any Panch-Sarpanch turns out to be fake, then he should be suspended and dismissed. For this, the commission has asked the deputy commissioners to take action under clause b of sub-section (3) of section 51 of the Haryana Panchayat Act, 1994. This order of the commission has created panic among the newly elected panch-sarpanch and their supporters.
In the 18 districts where orders have been given to check the degrees of Panch-Sarpanch, Bhiwani, Jhajjar, Jind, Kaithal, Mahendragarh, Nuh, Panchkula, Panipat, Yamunanagar, Ambala, Charkhi Dadri, Gurugram, Karnal, Kurukshetra, Rewari, Rohtak, Sirsa and Sonipat districts are included. Election Commissioner Dhanpat Singh has instructed all the DCs to inform the State Election Commission about the action taken on such matters. Any person who has any complaint in this regard should directly send it to the DC of his district.
According to the orders of the Election Commission, a 10th pass is necessary for the general category or backward class. On the other hand, it has been made mandatory for women and SC candidates to have an 8th pass and SC candidates (women) to have a 5th pass for the post of Panch, 8th pass for Sarpanch, Panchayat Samiti member and Zila Parishad member.
The Election Commission has kept four districts out of this order. Voting hasn't happened here yet. These districts include Fatehabad, Faridabad, Hisar and Palwal. Here the Zilla Parishad and Panchayat Samitis will be voted on 22 November and for Panch-Sarpanch on 25 November.
The Election Commission has also removed the code of conduct from these 18 districts. A letter was sent to the DC regarding this on behalf of the State Election Commission. State Election Commissioner Dhanpat Singh had said that the code of conduct will be imposed only in the four districts where panchayat elections are yet to be held in the third phase. These include Faridabad, Palwal, Hisar and Fatehabad.