Big B's voice improves Comedian Raju Srivastava's health
Amitabh sent a message; Body movement increased and blood pressure also came under control.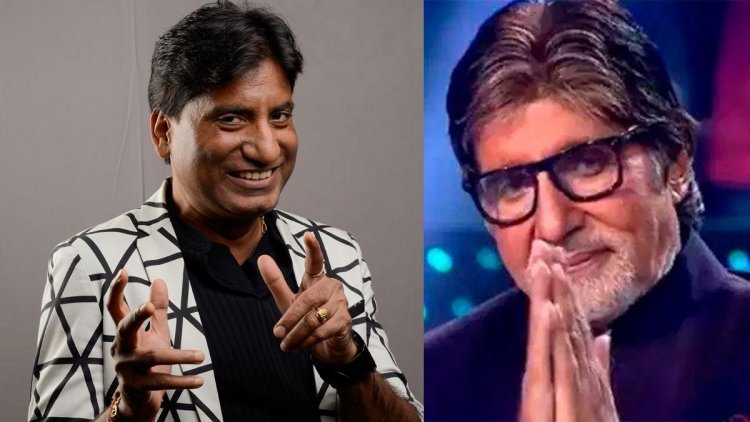 Comedian Raju Srivastava, who has made everyone laugh, is currently going through the toughest time of his life at AIIMS Delhi. On the 5th day also on ventilator support and my brain is not responding. Fans are praying for a speedy recovery.
On the advice of AIIMS doctors, Amitabh Bachchan i.e. Big B sent a special audio message to Raju Srivastava. This recording was heard for about 1 hour by Raju. Its effect has also been seen. According to Raju's PRO, the movement in the body has increased, but the lack of brain response is a matter of concern.
Raju Srivastava's nephew Kaushal Srivastava said that his condition is stable. The movement has been seen in the eyes, pupils, arms and shoulders. The team of doctors is also trying their best. The treatment is also getting a positive response. His blood pressure is also fine now.
Raju's family members said, "Big B Amitabh Bachchan has sent an audio message on Raju Srivastava's phone. They are wishing him a speedy recovery. They are saying - Raju wake up, bas bahu hua, ab bahu kaam kaam Have to. Get up now... kept on teaching us all to laugh."
Nephew Kaushal told that rumours are also being spread that he got an attack due to excessive exercise. This is not right. He always runs on the treadmill. He has a treadmill in his house in Mumbai and Kanpur. He never used to lift heavyweights in the gym. Running on the treadmill every day is a part of his life.
Raju Srivastava was exercising on a treadmill on Wednesday, August 10. During this time he had a heart attack. After this, he has been admitted to AIIMS, Delhi. The actor and comedian have released the video saying that in the treatment of Raju, a team of 11 doctors is treating him. Actor Mukesh Khanna issued a statement saying that his doctors told him that movement has started in his shoulder too. They move their toes when they move their fingers on their feet.
Raju Srivastava's health is gradually improving. PMO and Chief Minister Yogi Adityanath are constantly monitoring his health. The family is constantly doing poojas for them. An appeal has been made on behalf of the family not to pay attention to the rumours.
For Latest Update from Sangri Today Like us on Facebook and Follow on Twitter. Fore Latest Video News Subscribe our channel on YOUTUBE. Also Join Our Telegram Channel