Venkatesh Agrawal Challenges the World to Sing His Upcoming Song Aalap with Him, Offering a 20,000 Cash Prize and a Chance to Star in His Next Music Video
Venkatesh Agrawal Challenges the World to Sing His Upcoming Song Aalap with Him, Offering a 20,000 Cash Prize and a Chance to Star in His Next Music Video Chhattisgarh (India), November 1: Venkatesh Agrawal, the world's Youngest Music Director, and Songwriter, is making headlines again, not just for his extraordinary talent but also for his [...]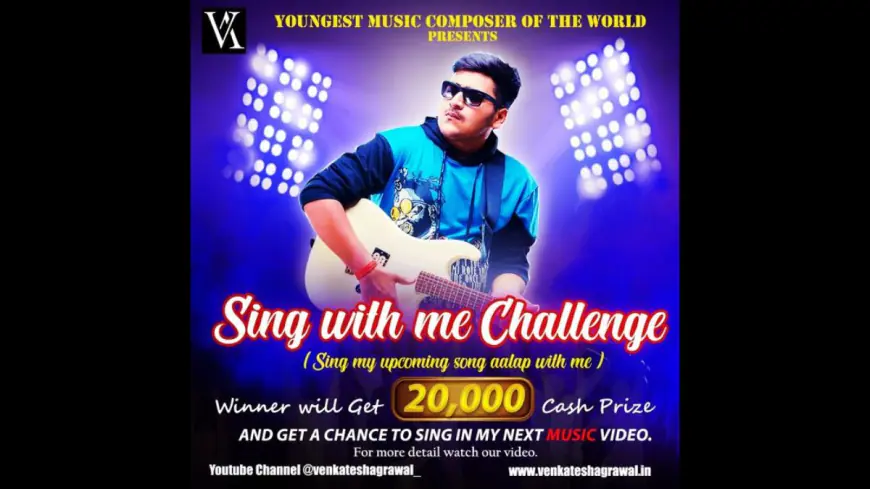 Venkatesh Agrawal Challenges the World to Sing His Upcoming Song Aalap with Him, Offering a 20,000 Cash Prize and a Chance to Star in His Next Music Video
Chhattisgarh, India - : Venkatesh Agrawal, the world's youngest music director and songwriter, has been making waves, not just for his exceptional musical talent, but also for his innovative approach to music and his unwavering dedication to his fans. In a groundbreaking move, this 17-year-old prodigy is challenging the world to sing with him in his upcoming song "Aalap," offering an incredible 20,000 cash prize and a golden opportunity to feature in his next music video.
Venkatesh Agrawal has gained global acclaim for his exceptional musical contributions, earning recognition from both the Golden Book of World Records and the Influencer Book of World Records. Despite his tender age, he has composed numerous songs and penned lyrics for multiple Hindi tracks, captivating music enthusiasts worldwide. Renowned Bollywood singers, including Abhijeet Bhattacharya, Anuradha Paudwal, Amit Misra, and Altaf Sayyed, have lent their voices to his creations, further solidifying his reputation in the industry.
Venkatesh's remarkable achievements extend beyond his musical talents. He is deeply committed to philanthropic activities and is dedicated to making the world a better place, embodying the spirit of a young artist with a purpose. Speaking about his latest initiative, Venkatesh expressed his excitement, "I'm thrilled to challenge the world to sing 'Aalap' with me. Music is a universal language that unites people, and I want to share this beautiful experience with my fans. The 20,000 cash prize and the chance to be featured in my next music video are my way of giving back to those who have supported me. This is a unique opportunity for aspiring artists to showcase their talent and connect with a global audience."
Venkatesh Agrawal's "Aalap" challenge invites music lovers of all levels, whether amateur or professional, to participate and share their passion for music. The competition not only offers contestants the chance to collaborate with a musical sensation but also a chance to win a substantial cash prize.
In addition to the cash prize, the selected winner will have the unique opportunity to join Venkatesh in his next music video, which is sure to captivate audiences and set new trends in the music industry.
Jayesh, Chief Editor of the Influencer Book of World Records, shared his thoughts about Venkatesh's remarkable talent, saying, "This is the ultimate talent in the world. Our organization is immensely proud to honor Venkatesh Agrawal with this award, and we wish him a bright and promising future. India is proud of this young talent who has set a world record."
Venkatesh Agrawal's "Aalap" challenge is not just a celebration of his musical achievements, but also a testament to his desire to inspire young artists worldwide. As he continues to shape the future of the entertainment world, he invites the world to join him on this incredible journey.
Participate in the challenge, showcase your musical prowess, and stand a chance to win 20,000 and star in Venkatesh Agrawal's next music video.