UN Secretary-General Antonio Guterres arrives in India: Tributes paid to those who lost their lives on 26/11
UN Secretary-General Antonio Guterres arrives in India: Tributes paid to those who lost their lives on 26/11; Said- I can't stop Russia-Ukraine war even if I want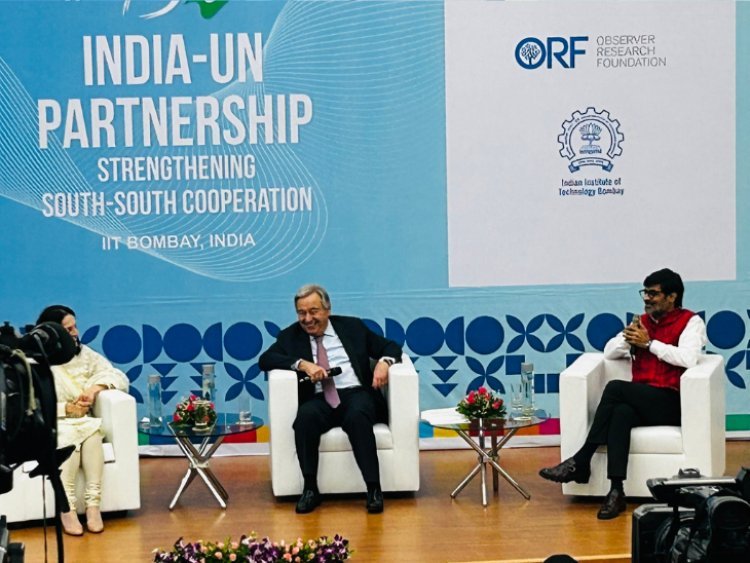 United Nations (UN) General Secretary Antonio Guterres arrived at the Taj Hotel in Mumbai on Wednesday, the first day of his three-day visit to India. Here he paid tribute to those killed in the 26/11 terror attack. Maharashtra CM Eknath Shinde and Deputy CM Devendra Fadnavis were also present on the occasion.
Guterres also talked about the ongoing war between Russia and Ukraine on this occasion. He said- I cannot stop the ongoing war between the two countries even if I want, it is beyond our power. With the help of America, Russia, Ukraine, Europe and other countries, I can try to make an agreement between the two countries.
Guterres said- terrorism is evil, which no reason or excuse can justify. The 26/11 attacks are one of the most brutal terrorist incidents in the world. I want to pay tribute to the 166 people who lost their lives in the accident, they are all heroes to the whole world. My sympathies go out to his family, friends and acquaintances.
Guterres also met Devika, a 26/11 survivor. Devika was injured in the firing of terrorists at Chhatrapati Shivaji Airport. He had identified terrorist Ajmal Kasab in the court. Kasab was sentenced on the basis of his testimony.
Guterres said- eliminating terrorism is at the top of the priority list of the UN. Special Anti Terrorism Office has been started to fight terrorism. Through this special office, the UN will provide help and necessary training to its member countries to fight terrorism. The fight against terrorism should be the priority of all countries.
After his visit to the Taj Hotel, Guterres addressed a student at IIT Mumbai on 'India @ 75: UN-India Relations'. This is Guterres's first visit to India after becoming the General Secretary of the UN. Earlier in August 2018, he visited India.
Guterres will launch Mission Life in Gujarat on October 20. PM Narendra Modi will also join him on this occasion. After this, he will engage in bilateral discussions with Foreign Minister S Vijay Shankar in Gujarat itself. On this occasion, India's cooperation with the UN at the global level and India's role in the G-20 will be discussed.
For Latest Update from Sangri Today Like us on Facebook and Follow on Twitter. Fore Latest Video News Subscribe our channel on YOUTUBE. Also Join Our Telegram Channel