Proposal in UNGA- Russia should give compensation to Ukraine
Proposal in UNGA- Russia should give compensation to Ukraine: India abstained from voting; 94 countries said – Ukraine must get compensation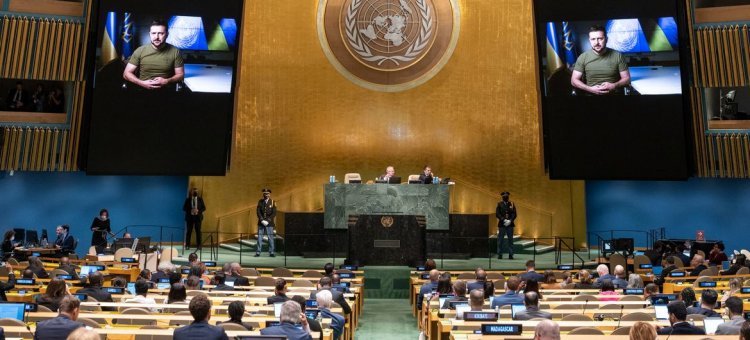 The Russia-Ukraine war continues almost 11 months later. All efforts to stop it have proved unsuccessful so far. A new twist came in this case on Monday. A resolution was brought to the United Nations General Assembly (UNGA). It said that Russia should compensate Ukraine for the damage caused by the war.
Voting was also held on this proposal. India did not participate in it. The resolution demanded compensation for the damage caused to Ukraine by the Russian attack. It says that Russia has broken international law.
The resolution was introduced in the UNGA with the support of the US and its allies in the West. In this, 94 countries voted in favour of Ukraine. After this, the proposal was accepted. 14 countries voted against the resolution, including Belarus, China, Cuba, North Korea, Iran, Russia and Syria.
Along with India, 73 countries including Bhutan, Brazil, Egypt, Indonesia, Israel, Nepal, Pakistan, South Africa and Sri Lanka abstained from voting.
India's permanent representative in UN Ruchira Kamboj said- We have to consider whether everything will be fine with the voting in the UN. Also, it is not clear what will happen legally if such resolutions are passed in the General Assembly. Ruchira reiterated PM Narendra Modi's statement to Russian President Vladimir Putin that "this is not the time for war". Said- India wants to stop the war through dialogue and diplomacy.
Kamboj further said – Without taking international law into consideration, such proposals should not be brought, which will affect the future agenda of the United Nations. Such steps should be avoided that escalate this conflict by jeopardizing the dialogue.
Kamboj also said that India is concerned about the situation in Ukraine. Many lives have been lost in this war and millions of women, children and the elderly have been rendered homeless. Because of this, they were forced to live in neighbouring countries. He also blamed the war for the economic decline in the world.
Nearly 50 countries at the UNGA agreed that Russia should be held accountable for violating international law by attacking Ukraine. Also, Russia should be compensated for the loss.
This is not the first time that such a resolution has been introduced and passed in the UNGA. Even before this, Western countries brought many proposals, but they did not have much effect. Thousands of soldiers from both countries have been killed in the war that started in February. Global food security and supply chains were affected due to the war. Crude oil became very expensive.